Delivery from only £6.50
Same Day Despatch
Next Day Delivery
We aim to despatch all our online orders same day for next day delivery. As soon as we start packing your order we'll send you an email updating you of your despatch.
We've partnered up with a couple of couriers to ensure we have multiple options when sending out your goods, the order confirmation email will outline who your courier will be and give an estimated date of arrival.
Please note next day delivery may not be available on personalised items such as staff ID cards or lanyards. The cost of delivery for personlised items may vary, please call us before ordering to confirm the cost and your expected delivery date.
Secure Website
Pay Securely Online
Secure Payment Methods
We have partnered up with Paypal and Barclays to process our web payments to ensure a secure payment method. We currently accept a number of different payment methods including Paypal, Visa, Visa Electron, MasterCard, JCB and Maestro.
If you wish to apply for a credit account or have any further questions please contact us on 0800 622 6201 or on our mobile friendly number 0333 7000 123.
Customer Satisfaction
100% Guaranteed
Evolis Laminator Cleaning Kit
Description
Evolis laminator cleaning kit for the Evolis Securion card printer
Contains
10 Adhesive Cleaning Cards
See also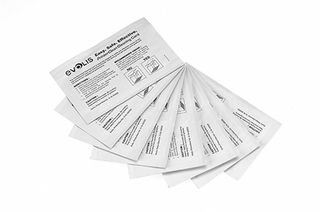 50 adhesive cleaning cards for the Evolis for Tattoo, Pebble, Dualys, Securion & Quantum
Reviews
There are no reviews yet.
Add review