Fargo HDP5000 Dual Sided ID Card Printer
Description
Fargo HDP5000 ID Card Printer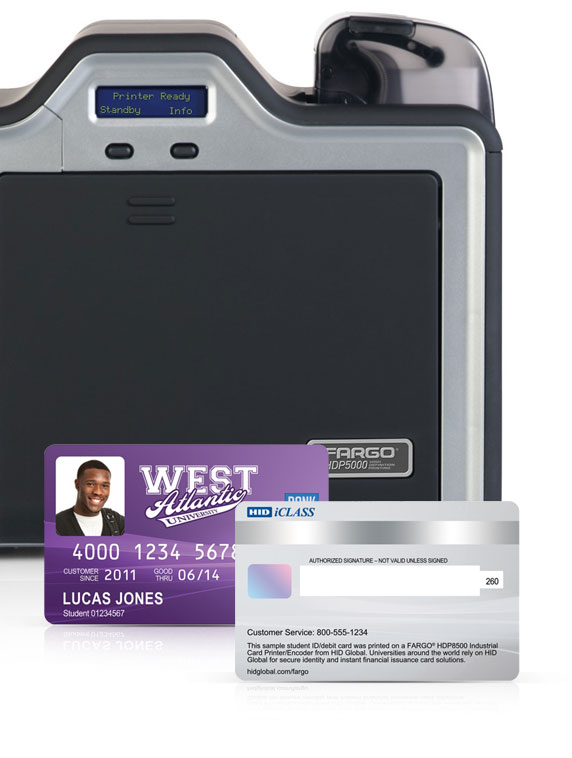 High Definition
Colours are vibrant. Images are crisp. Quality is second to none. ID cards printed on FARGO HDP5000 Card Printer/­Encoders do more than protect your organization — they reflect the value you place on your brand.

Reliable
The HDP5000 is exceptionally reliable, which means less printer downtime. Because the print head never comes in contact with card surfaces or debris, it's never damaged in the printing process.

Secure
High Definition Printing are inherently more durable and secure than other types of cards. They resist wear and tear by putting a durable layer of HDP Film between the card image and the outside world. They're also tamper-evident — if a counterfeiter tries to peel apart the layers, the image essentially destroys itself.

Encoding
The Fargo HDP5000 has various encoding options available, options include: Magstripe Encoding, Contact & Contactless Encoding.


The NEW Enhanced Fargo HDP5000
Superior print quality, higher reliability and durability, greater security – your photo ID cards will have all these qualities when you print and encode them with the affordable and versatile HDP5000.
High Definition Printing™ gives you superior print quality, even on cards with embedded electronics, for a more impressive public image.
High reliability and durability lowers your total cost of ownership, and affordable pricing makes High Definition Printing available to practically any business.
We back the HDP5000 with a lifetime print head warranty and three-year warranty on everything else.
Versatile modular design permits change as your needs change. Dual card input hopper, dual-sided printing, single- or dual-sided lamination and card encoding technologies are all field-upgradeable features.
Minimal training is required because of its simple design and intuitive operation. Cards, ribbons and over laminates come in cartridges that load quickly and easily
Key Features
Our enhanced HDP5000 printer/­encoder is feature-packed. Perfect for technology cards with embedded electronics, it reliably produces cards in High Definition with the highest image quality available. The HDP5000 upgrades easily in the field, with additional modules.
New optional dual card input hopper simplifies card handling and minimizes downtime.
HID Global next-generation HDP platform enables faster print speed.
Optional single-sided or simultaneous dual-sided lamination for higher card security--quickly.
Dual-sided card printing option lets you double the print area available without manually reloading cards.
SmartScreen™ LCD Control Panel displays helpful status messages and prompts.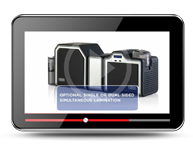 Versatile Design Grows With Your Needs.
The HDP5000 offers the versatility to meet your card application needs today and in the future. The system's flexible architecture lets you expand or reduce production instantly, with add-on dual- sided printing, encoding and lamination modules. For greater system capacity, an optional dual card input hopper lets you easily manage multiple card types and higher card volumes. Because the HDP5000 easily integrates with other products within the HID ecosystem, you can leverage your existing Genuine HID technology investments.




Fargo HDP5000
Part No
Ribbon Description
Images
Panels
Click To View Product

84060

Fargo 1 Panel

3000 Images
Premium K

84051

Fargo 4 Panel

500 Images
YMCK
84056

Fargo

5 Panel
500 Images
YMCKH
84052

Fargo

5 Panel
500 Image
YMCKK

84050

Fargo

3 Panel
750 Image
YMC
84061

Fargo

5 Panel
500 Image
YMCKF
84069

Fargo

4 Panel
1000 Image
YMCK
84068
Fargo 6 Panel
450 Image
YMCIKH
84057

Fargo

5 Panel
500 Image
YMCKI
84049
Fargo 5 Half Panel
750 Image
YMCKK
84059
Fargo 7 Panel
1000 Image
YMCKIKI
84053
Re-Tranfer FIlm
1500 Image
Clear
84067
HDP Film
1000 Image
Clear
Videos
Videos
How to clean your HDP5000
How To Install A Magnetic Encoder On A HDP5000 Printer
Downloads/Spec
Specifications
| | |
| --- | --- |
| Print Method | HDP Dye-Sublimation / Resin Thermal Transfer |
| Dual Sided | Single or Dual Sided Printing |
| Resolution | 300dpi |
| Print Speed (per card) | up to 24 seconds per card / 150 cards per hour (YMC with transfer)* |
| Card Type | Plastic PVC |
| Card Size | 85.6mm x 54mm |
| Card Thickness | 0.76mm |
| Input Hopper Card Capacity | 100 cards |
| Output Hopper Card Capacity | 200 cards |
| Interface | Standard USB and Ethernet |
| Software Drivers | Windows 7 / Windows Visita (32bit and 64bit) / Windows Server 2008 (64bit) / Windows XP SP3 / Windows Server 2003 R2 (32bit) / Microsoft Windows Hardware Quality Labs (WHQL) certified |
| Magentic Stripe Encoder | Optional |
| Smart Card Encoder | Optional |
Reviews
There are no reviews yet.
Add review