Hello Visitors
Description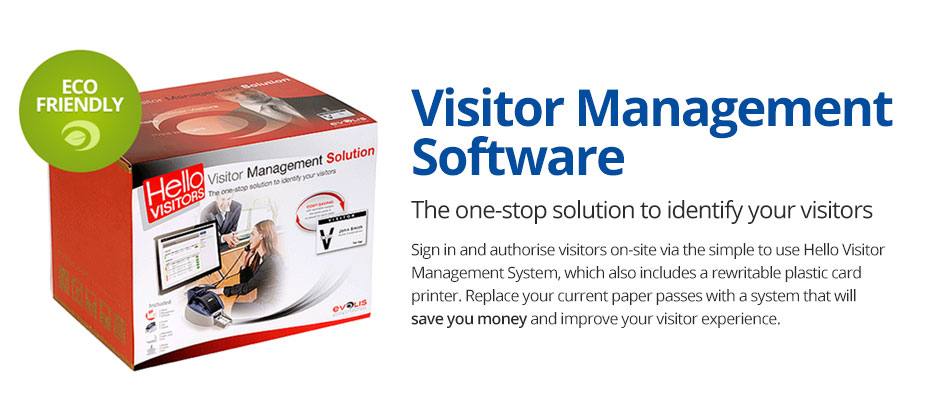 ​

Hello Visitors
This system allows a business to be able track all visitors (arrivals and departures) and alert reception to any upcoming visits. You can also enter any information you want about the visitor and it will be recalled at a later date. For example if someone has been banned from entering the premises it will alert the receptionist when their details are entered, enabling the company to remain secure and safe. Upon arrival the receptionist will confirm on the system that the visitor has arrived or enter a new visit (if they have not got an appointment), at that point an email will be sent to the individual meeting them. A pre-designed, personalised badge will then print with their details on, enabling immediate identification of visitors within the premises of the company. A major feature of this printer is its ability to reuse the cards over and over again.
This package includes:
Visitor management software
Tattoo-RW printer
20 Personalised rewritable cards (printed with your logo)
20 Badge holders
20 Visitor red lanyards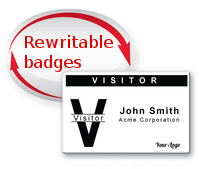 Re-writable cards
Re-writable cards are an eco-friendly way of producing ID cards for visitors to your company. Simple and easy to use, all you need to do to reuse the card is enter it into the hopper of the priner and the next details will be printed onto the card. The cards can be reused up to 200 times, this is a cost effective way of printing ID cards while making substantial savings. Thanks to our template publisher, you will be able to personalise the badges using your own design / logo; creating headings ranging from visitor, contractors, DBS and many more.
We also provide a support service, where we will supply 20 personalised cards. We preprint your logo and information on the card permanently; and then the Tattoo printer will then print the information of the visitor over the top; making your cards look professional and high quality. Available also in this service is our IT Support; we can remotely help set up the software and get you started with the print designs; be on hand if there are any techniqual issues with software and will repair or replace the printer if there are any technical issues.
Health and safety and fire regulations
As well as printing your Logo and information, a good feature of the pre-printed cards is that we can include any health and safety, fire regulations, maps and other information on the back of the card. So if there are any emergencys, the visitor can clearly see what steps to take and your companys procedure.
Tattoo card printer
Tattoo RW is an Evolis single-sided card printer for rewritable cards. It effortlessly matches all your expectations when it comes to flexibility, affordability and sustainable development.­ The 300 dpi standard resolution and the large print area provide unrivalled freedom when designing cards The Tattoo ReWrite will help you save significant money since no ribbon is required and cards are reused, which makes it an environmentally sound solution as well. Easy to use, once this printer has been set up all you need to do is feed the card back into the machine and it will rewrite your cards.
For more information on the Tattoo Card printer - Click here
Specifications
Facility Friend Visitor Management Software

REGISTERING VISITORS

Fast visitor registration using a form and a search engine to gain rapid access to the file of visitors already registered. Option of adding a visitor identity photo and signature (requires peripherals not supplied). Management of a liste of banned visitors

VISIT MONITORING

Dashboard showing visits underway, those yet to take place, and those delayed. All visits made by each visitor are recorded in full.

An evacuation report showing all visitors present onsite is generated

TRACKING OF PARCELS AND MESSAGES

Creation of personalized messages for receptionists and security officers: incident reports, lost property…
The parcel tracking facility allows reception staff to receive parcels addressed to employees / hosts by recording their tracking numbers

PUBLICATION OF BADGE TEMPLATES

SVG publisher enabling the personalization of models through the addition of a logo, images, photos, or text. Visitor and employee badge templates are installed by default.

AVAILABLE LANGUAGES

English and French

TYPE OF LICENSE

Single-site and Single-location (upgrade to multi-sites and/or multi-locations available from the publisher, VISCOUNT).
Tattoo RW printer

PRINTING

Direct thermal printing and erasing on rewritable material

RESOLUTION

300 DPI

SURFACE IMPRIMABLE MAXIMALE

48 mm x 76 mm

SPEED

Erase & Print Cycle: 8 seconds (manual) - 12 seconds (feeder)

INTERFACE

USB & Ethernet – USB cable included

WARRANTY

2 YEARS

DIMENSIONS (L x H x W)

290 mm x 166 mm x 187 mm (6.54" x 11.42" x 7.36")

WEIGHT

2,4 Kg (5.3 lbs)

ELECTRICAL SUPPLY

Power supply unit: 100/240 Volts AC, 1.8 A, 50-60 Hz
Printer: 23 V DC, 3 A
​ Minimum requirements
PC: Windows XP,
Vista or 7 (32 or 64-bit)
512 MB RAM,
200MB disk space
1 CD-ROM reader
1 USB port
Internet connection for additionnal plugin installation
Optional Extras
To make the Hello Visitor more effective there are extra options that will make the package more professional and will fulfil any extra needs.
Webcam
Also available is a webcam that will enable you to take a picture on site and will automatically add it to the card design and will be printed directly onto the card.
Signiture Pad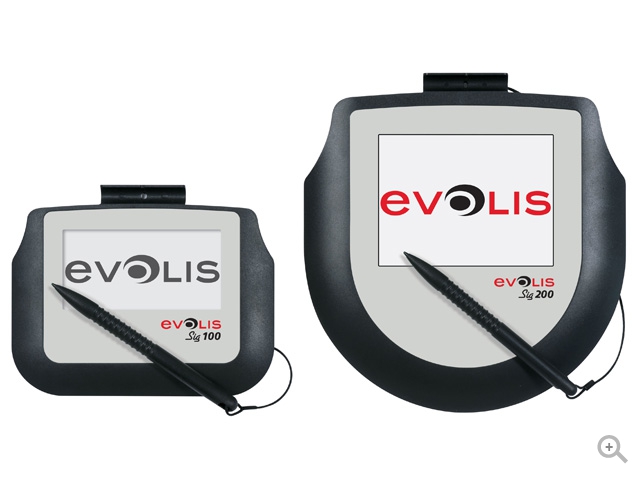 The Sig100 and Sig200 signature pads are the ideal answer to any company that wish to improve card security, have the visitor offically sign any health and safety requirements that you may have and proceedures. The product can be used with the hello visitor software and will automatically transfer the signature onto the ID card design and will prints directly on the card. It will also add it to the visitor details page for future reference.
Main Features
Backlit display
Super slim design and smooth surface for natural signing experience
Real time signature display
Plug and Play USB connection
Encrypted data transfer
Strong stylus tether with swivel for ease of use of having your visitor sign on a sig tab which will trasfer on to the card and the visitors details page on the software.
For more information - please click here to contact us.
Reviews
There are no reviews yet.
Add review