Visitor Management Software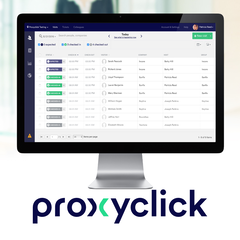 Proxyclick is a cloud visitor management system designed for small to large organisation.
Lesar offers a range of visitor management systems
Are you looking for electronic visitor software to manage your visitors? Lesar specialise in all things ID and we have a number of different software options that range in price according to your specifications. Each option will present your company's professional image to your visitors.
We also supply systems that can take a photo of any visitor or staff member that arrives on site and print a temporary pass that can be worn on a lanyard to make clear to all staff whether that visitor is authorised on site. Further to our visitor management software we provide access control solutions and are approved installers with the UK leading provider of access control software Paxton.
Contact us for more information about any of our systems
Whatever your specifications we would love to help, call us on 0333 7000 123 to discuss what you would like to achieve.