Fargo DTC4500
Description

Fargo DTC4500 ID Card Printer
The versatility of the DTC4500 is unsurpassed from loyalty cards to sophisticated access cards with embedded electronics. Empowered by an extremely robust and highly-reliable print engine, this high-volume printer delivers speed, power and versatility rolled into one.
High capacity ribbons enable the DTC4500 to print twice as many full colour cards than most printers before the ribbon has to be changed, providing continuous high quality-card printing and encoding.
The DTC4500 offers field-upgradable options for migration to higher levels of security in the future:
Optional card lamination for applying over laminates to produce high-secure cards that resist forgery and increase card durability; and unique, dual-sided simultaneous lamination also saves time with increased throughput.
Dual-sided printing module provides more space for card holder information and security features like duplicate photo and digital-signature.
Technology encoding modules encode data for magnetic stripe, proximity, contact and/or contactless technology cards, such as iCLASS®, for access control or other applications.
The DTC4500 combines a high level of security with the convenience to easily print what you need, including:
Built-in security with password-protected printer operation and fluorescent panel printing for a cost effective and dynamic increase in card security.
SmartScreen™ graphical display provides easy-to-follow prompts to be sure you'll always know the status of the printer.
Standard dual-input card hopper for increased capacity or management of multiple card types.
Easy integration into existing IT infrastructures through the built-in Ethernet and USB connection, allowing for centralized or remote ID card issuance.
Industry's first inline card printing and technology card encoding with one connection using USB or Ethernet connectivity.
Fully compatible with Asure ID® card personalization software for badge design, database management and technology card encoding.
The FARGO® DTC4500 is built with Genuine HID™ technology and is fully interoperable with other products in the HID ecosystem, enabling organizations to leverage their existing HID technology investments.
Optional Features:
Additional Encoding Options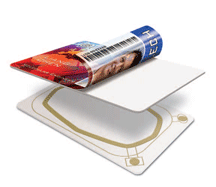 Fargo DTC 4500 - Brochure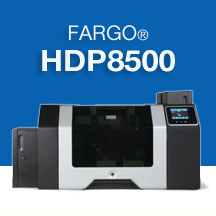 The FARGO® DTC4500 printer/encoder is the workhorse of HID Global's FARGO Direct-to-Card printer line. With its heavy-duty engine and high-performance design, the printer comes with a standard dual-input card hopper for increased card capacity and the ability to manage more than one card type at once. High-capacity ribbons enable the printer to produce more full-colour cards than most printers before the ribbon has to be changed, reducing user intervention and printer downtime. This printer is the number one choice for fast, high-capacity card printing and encoding.
With easy set up and a user-friendly SmartScreen™ graphical display for print status, the DTC4500 is extraordinarily simple to use.

Fargo DTC4500
Part No
Ribbon Description
Images
Panels
Click To View Product

45203

Fargo 1 Panel

2000 Images
Blue
45204
Fargo 1 Panel
2000 Image
Green

45213

Fargo 1 Panel

500 Images
YMCK
45207

Fargo

1 Panel
1000 Image
Gold
45211

Fargo

1 Panel
1250 Image
Premium K

45201

Fargo

1 Panel
3000 Image

Premium K

45205

Fargo

1 Panel
2000 Image
Red
45208

Fargo

1 Panel
1000 Image
Silver
45202

Fargo

1 Panel

3000 Image
Standard K
45206

Fargo

1 Panel
2000 Image
White
45209
Fargo 6 Panel
500 Image
YMCFKO
45212
Fargo 7 Panel
400 Image
YMCFKOK
84053
Re-Tranfer FIlm
1500 Image
Clear
84067
HDP Film
1000 Image
Clear
Downloads/Spec
Sided Printing: Single or Dual
Print Method: Dye-sublimation / Resin Thermal Transfer
Resolution: 300 dpi
Print Speed: 24 seconds per card / 150 cards per hour (YMCKO)
Accepted Card Sizes:

CR-80
CR-79 Adhesive Back

ENERGY STAR Certified Product: Available on non-lamination configurations which provides organizations with a high-performance, energy-efficient photo ID printing solution that supports corporate green initiatives and helps reduce costs.

As part of its new ENERGY STAR rating, the default time for sleep mode has been lowered from two hours to five minutes, and printer design enhancements reduce the power consumption when in standby or sleep mode. Additionally, the ENERGY STAR FARGO DTC4500 is turned on and off using the power button versus plugging in the power cable.
Field-Upgradeable Printer Options:

Single Wire Ethernet and USB 2.0 interface for in-line printing and encoding (note: single wire Ethernet encoding is only available for iCLASS and contact smart card encoding)
Ethernet with Internal Print Server - Standard Feature
Dual-Input Card Hopper (200 cards) - Standard Feature
Same-Side Input/Output Card Hopper - Upgradable
Card Lamination Module: single-sided or dual-sided (simultaneous) - Upgradable
Smart Card Encoding (contact/­contactless) - Upgradable
Magnetic Stripe Encoding - Upgradable
Reviews
There are no reviews yet.
Add review