Zebra P330i
Description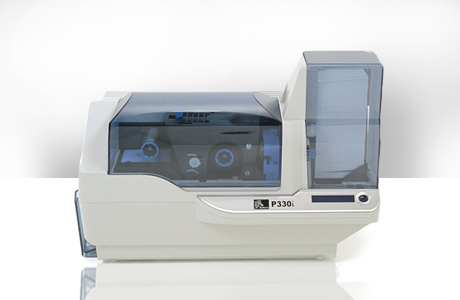 Zebra P330i Card Printer
This Zebra P330i is ideal for:
Employee ID Cards
Student and Faculty ID Cards
Access Control Cards
Membership and Loyalty Cards
Personalised Gift Cards
Visitor ID Cards
Government Licenses
Speed
The Zebra P330i printer is the perfect solution for producing high volumes of identification cards in no time at all! P330i offers fast and attractive personalization of cards making them ideal for a wide range of identification cards. The Zebra P330i resolution ensures exceptionally sharp print quality, as the cards take around 25 seconds to print in full colour or less than 5 seconds in monochrome.
Notifications
Zebra P330i has a fantastic translucent cover allowing you to see when supplies are running low, with the facility to add blank cards while printing, resulting in no down time. The design of the self-aligning print head ensures uniform print quality as well as edge-to-edge printing. The useful LCD panel assists the operator by describing clearly the current status of the printer. It even provides a reminder when routine cleaning needs to be done.
High Quality
The Zebra P330i is ideal for both instant card issue and batch runs. Plain or pre-printed cards can be loaded into the input hopper, and by using dye sublimation or thermal transfer technology, the image, signature, data and graphics can be printed on the surface of each card in full colour. The finished cards are then coated with a hard, clear overlay varnish to give additional protection.
Zebra P330i Optional Extra
Ethernet Connectivity
Magnetic Stripe Encoding
Zebra P330i General Specifications:
16 character LCD display
Windows drivers: 2000, XP, Server 2003; Vista compatible
Bi-directional driver communication
Single Sided Print
USB connectivity
High-capacity feeder (220 cards)
Vibrant, true-to-life colours
Downloads/Spec
More Standard Features
300 dpi (11.8 dots/mm) print resolution
Zebra True Colours iSeries intelligent technology media
Two year warranty on card printer and original printhead (unlimited passes) - if shipped on or after January 1, 2007
One year warranty applies to printers shipped prior to January 1, 2007
---
Printer Specifications
Single or Dual-sided Printing
Color Capability: Full Color, Monochrome
Print Method: Direct-to-Card Dye Sublimation
Lamination: None
Card Feeder: Integrated Card Feeder
Card Feeder/Hopper Capacity
Card feeder capacity: 100 cards (30 mil)
Card output hopper capacity: 100 cards (30 mil)
High capacity card feeder: 220 cards (30 mil) (optional)
Memory: 20 MB memory (standard)
Print speed: 144 cards/hr (full color, single-sided)
692 cards/hr (monochrome black)
---
Media Characteristics
Ribbons
Zebra True Colours iSeries intelligent technology media
Monochrome: 1500 and 1000 cards/roll
KdO and KrO: 500 cards/roll
YMCK: 400 cards/roll
YMCKO: 200 & 330 cards/roll
1/2 panel YMCKO: 450 cards/roll
Overlay varnishes (clear and hologram): 350 cards/roll
---
Operating Characteristics
Operating temperature: 60° F (15° C) to 86° F (30° C)
Storage temperatures: 23° F (-5° C) to 158° F (70° C)
Operating humidity: 20% to 65% non condensing
Storage humidity: 20% to 70% non-condensing
Electrical: 100-240 Volts AC, 50-60 Hz (auto switching)
Ventilation: Free air
Agency approvals: FCC Class A, CE, UL, CUL, CCC approved
---
Physical Characteristics
Width: 18.2" (462 mm)
Height: 10.1" (256 mm)
Depth: 9.4" (239 mm)
Weight: 15.5 lbs (7.0 kg)
---
Related Products
Card Encoding Options
UHF Gen 2 RFID encoder
Smart card contact station (30 mil cards only)
Smart card contact encoder ISO 7816
MIFARE/DESFire contactless smart card encoder (30 mil cards only)
Magnetic encoder, 3 track HiCo/LoCo (30 mil cards only)
Options
Built-in 10/100 Ethernet
High capacity card feeder - 220 cards (30 mil)
Extended warranty program
Hot swap warranty program (USA only)
Communication and Interface Capabilities
USB 1.1 (USB 2.0 compatible) cable included (standard)
Built-in 10/100 Ethernet (optional)
---
Bar Codes/­Symbologies
Linear Code 39
Interleaved 2-of-5
Code 128 B & C
UPC-A
EAN-8 and EAN-13
2-D PDF 417
Other Symbologies via Windows Driver
Fonts and Graphics: True Type fonts via Windows drivers
---
Card Detail
Card Types
PVC, PVC Composite, UHF Gen 2 RFID, Adhesive backed
Magnetic stripe - ISO 7811
Smart card contact and contactless
Card Size: CR-80 - ISO 7810, 2.12" (54 mm) X 3.385" (86 mm)
Card Thickness: 10 - 60 mil
Reviews
There are no reviews yet.
Add review