Zebra ZXP Series 3
Description
The Zebra ZXP Series 3 ID card printer produces colourful and professional ID cards. Manufactured by Zebra.
Why choose the Series 3
The series 3 printer is one of the latest printers from Zebra, compact and easy to use the affordable series 3 can be set up in less than 3 minutes!
This ID card printer has been specifically designed for printing a mid-volume amount of cards per year, and is often used for staff identification, retail & membership cards, and loyalty cards.
Who uses the Series 3
The ZXP series 3 is often used by those in the industries:
Services
Retail
Government
Technical Support
We have a dedicated team waiting to answer any questions you have regarding the Zebra ZXP series 3, from the moment you receive your card printer feel free to call 0333 7000 123 or email support@lesar.co.uk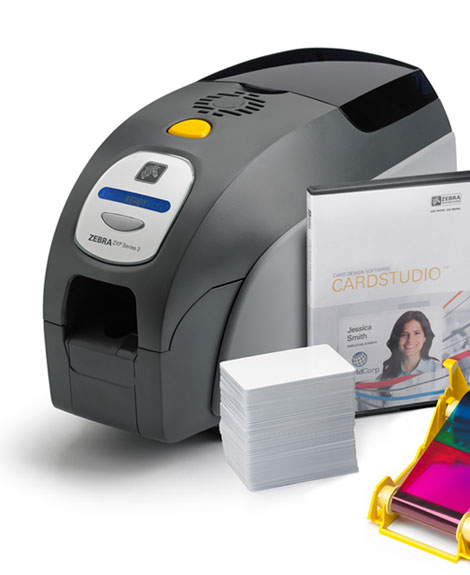 Downloads/Spec
Standard Features
Auto calibration of ribbon
USB connectivity
Microsoft Certified Windows drivers
Print Touch NFC tag for online printer documentation access
100 card covered feeder (30 mil)
45 card capacity output hopper (30 mil)
16-character LCD operator control display
300 dpi (11.8 dots/mm) print resolution
Two-year warranty on printer
Two-year (unlimited passes) original printhead
One-year hot swap (U.S. only)
Kensington® secure lock slot
---
Printer Specifications
Dye-sublimation thermal transfer direct to card
Full color or monochrome printing
Single- and dual-sided printing
700 cph monochrome single-sided
195 cph single-sided YMCKO
140 cph dual-sided YMCKOK
Edge-to-edge printing on standard CR-80 media

---
Supplies Specifications
NOTE: The ZXP Series 3 printer is designed to work only with Zebra True Colours ix high-performance ribbons
Zebra intelligent technology automatically detects and authenticates ribbon
Integrated cleaning roller included with each ribbon.
Media Starter Kit (single-sided)– 1 YMCKO ribbon, 200 30-mil PVC cards,
Cleaning Kit: 4 print engine cleaning cards and 4 feeder cleaning cards, 1000 images
---
Operating Characteristics
Operating temperature: 60° F (15° C) to 86° F (30° C)
Storage temperatures: 23° F (-5° C) to 131° F (55° C)
Operating humidity: 20% to 65% non-condensing
Storage humidity: 20% to 70% non-condensing
Media Storage:
Temperature: 41° F to 77° F (5° C to 25° C)
Humidity: 35% to 65% non-condensing
Do not store in direct sunlight

Electrical
Auto-switching single-phase AC power
Operating range: 90-132VAC and 190-264VAC RMS
Frequency range : 47-63 Hz
FCC Class A
---
Physical Characteristics
Width: 7.9" (200 mm)
Height: 9.3" (236 mm)
Depth: 14.5" (368 mm)
Weight: 11.6 lbs (5.3 kg)
---
Optional Features
Built-in 10/100 Ethernet connectivity*
Single-card feed mode*
ZebraCare™ extended product warranty programs
Lockable enclosure with obscure output bin*
---
Communication Interfaces
USB V2.0 (cable included) - standard
Built-in 10/100 Ethernet - optional*
---
Encoding Options and Specifications
Magnetic stripe encoder – ISO 7811 (new and re-encoded, tracks 1,2, and 3, high and low coercivity, stripe down, 30 mil card only
Smart card contact station ISO 7816 for third-party external contact encoders*
Combined MIFARE® ISO 14443 (13.56 MHz) contactless and ISO 7816 Contact Encoder with EMV Level 1 certification and PC/SC compliance (includes 50 card capacity [30 mil] output)*
Encoding over USB and Ethernet
---
Card Compatibility
NOTE: For optimum print quality and printer performance, use of Zebra genuine supplies is recommended.
Card Thickness: 10-40 mil
Card Size: CR-80, ISO 7810 format, Type ID-1, 2.12" (54 mm) x 3.38"(86 mm)
Card Material: PVC and PVC composite
Smart Card Contact – ISO 7816-1,2,3,4
Smart Card Contactless MIFARE® ISO 14443A/B
Spot Color or monochrome print only on < 20 mil card thickness
Reviews
There are no reviews yet.
Add review