Entrust (Datacard) brings you a new line of printers
Entrust Datacard recently announced a brand-new identity and company name – Entrust. The move both continues the company's enduring leadership and innovation in identity, payments, and data protection, and highlights Entrust's position as a leader in developing the core technologies needed to keep the world moving safely.
Entrust's new name and branding honors the company's heritage as it looks ahead. Datacard will continue to be featured prominently as the product line name for the company's high-volume card issuance solutions, and the company continues to invest and innovate in high-volume hardware, software, services, and supplies.
With this news, Entrust Sigma have released a new line of exciting printers that are now available to purchase from Lesar very soon.
Introducing the Entrust Sigma DS1 Direct-To-Card Printer.
The next generation single-sided printer.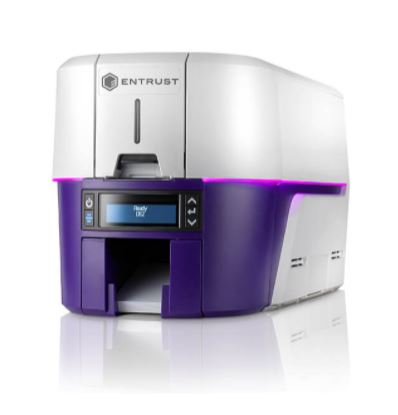 designed to integrate into your physical environment with features such as variable light LED ring.
Features worth highlighting:
Out of the box experience
Reduce the complexity and frustrations of unboxing. The Sigma is specifically engineered to start the ultimate printing experience, straight out of the box.
Printer dashboard
The printer dashboard has allows users to check printer status, order supplies check cleaning status, update firmware or contact help, all possible on a mobile device.
Issuance flexibility
Printing cards has now been designed with flexibility to issue ID cards with software in the cloud or on-premise.
Unmatched security
Your data is now rendered safe from intruders with encryption technology. Trusted platform module manages the printer's own TLS/SSL certificates and keys, and a secure boot which protects the system from malware or viruses. The Sigmas come with an emphasis on security features that when added to ID cards, protect it from tampering and coun­ter­fe­iting.­
DS1 Technical Specifications
DS1 Sigma Standard features at a glance
Print technology: Dye sublimation
Print capabilities: Single-sided (available in DS2 dual sided)
Print resolution: 300 dots per inch (dpi) (300 x 600, 300 x 1200)
Print speed: Single-sided colour ribbon: Up to 175 cards per hour (cph)
Card capacity: Input hopper - 125 cards, output hopper - 25 cards
Physical dimensions: L 17.4 in x W 8.9 in x H 9 in / 44.2cm x 22.6cm x 22.9cm
Weight: 11.3 lbs (5.49kg)
Connectivity: USB
Warranty: 36 months
In this article we have taken a brief look at the new Sigma printers that come in single-sided (DS1) and dual-sided(DS2). The Sigma range of printers will be available to purchase on our website soon, however, should you be interested in learning more about this printer and its benefits, please contact us via the following:
Email: enquiries@lesar.co.uk
Telephone: 0333 7000 123