Evolis Avansia
Overview

| | |
| --- | --- |
| Avansia Video | |
Evolis Avansia
The Evolis Avansia is a Double Sided premium retransfer printer, for high security and quality cards. Because of this printer's capacity to be able to print high security cards the printer can be easily locked by removing the RFID Electronic Key; meaning that no unauthorised use of the printer can occur and no one can take the cards after being printed. The Avansia prints at a high resolution guaranteeing a high standard of card and combined with the fast printing rate; you can have confidence that the Avansia with save you time without compromising on quality.
Avansia is ideal for delivering:
Corporate ID cards
Secure access badges
Student cards
Payment cards
Loyalty cards / gift cards
National ID cards
Driver's licenses
How does retransfer
technology work?
The card is printed in two phases:
The card design is printed by dye sublimation on a transparent film,
The printed film is then fused to the card using a thermal bonding process for flawless results.
The built-in flattener applies pressure on the card, thus ensuring a perfectly flat surface.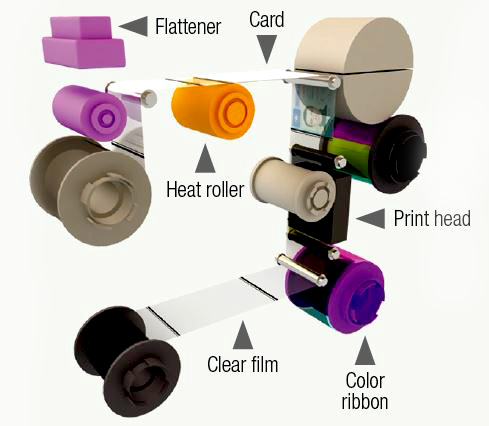 Flawless printing
Retransfer technology (Reverse Transfer) maximizes print quality:
High resolution 600 dpi: images and text are printed perfectly and small text and watermarks are printed in high definition.
Over the edge printing: this printer will guarantee that your edges print perfectly since the film fully covers the card.
Increased productivity
Avansia is exceptionally fast with an output of more than 140 single-sided colour cards per hour. Thanks to the high capacity feed tray and output tray (250 cards each) - and high capacity consumables (500 prints per roll), you can print your card runs with no interruptions.
Maximum endurance
Designed to issue cards intensively, Avansia is robust and reliable. Its 3-year standard warranty and life time warranty on the print head guarantee your long-term investment. Avansia can operate in critical environments (dust, heat...) thanks to its airtight structure.
Media compatibility
The Avansia Retransfer technology can print on all types of cards (PVC, PET, polycarbonate, ABS), including uneven card surfaces, such as smart contact and contactless cards.
The standard built-in card flattener delivers perfect results.
Multiple encoding options
To meet your specific needs, Avansia can be configured for all types of data encoding options: magnetic stripe, contact and contactless smart cards. These factory-configured encoding options can be combined.
Enhanced security
Avansia can be easily locked by removing the RFID electronic key. This quite simply prevents any attempt to use the printer.
A mechanical key lock, available as an option, prevents access to consumables. Moreover, Avansia comes with a security slot (Kensington® type).

Videos
Videos
The Evolis Avansia card printer is easy and simple to use; but if your having trouble and need some help, take a look at the videos below. Simple to understand and follow, these helpful videos can help you whether its cleaning your printer or making an adjustment to the settings.
How to clean Evolis Avansia
---
Produce high quality ID cards by keeping your Avansia card printer clean - watch this simple step by step video to get the most out of using our cleaning kits.
How to adjust card thickness?
---
Print a variety of ID cards on the Evolis Avansia card printer. Watch this video to see how you can adjust the card thickness settings to get the best results.
Downloads/Spec
GENERAL FEATURES
Print
Color dye sublimation and resin monochrome retransfer
Dual-sided printing
Reverse transfer printing
Print Area
Edge-to-Edge
Resolution
600dpi
Bitmap
24 bits, R/G/B 256 level
Cards
Card Feeding
Automatic
Card Thickness
0.76 mm (30 mil), manual adjustment
Card Type
• PVC cards
• Composite PVC cards
• PET-F cards
• PET-G cards
• Polycarbonate cards
Safety
Security
RFID locking key
Centralized locking system to secure access to blank cards,
ribbon and fi lm (optional)2
Display
Control Panel
Two-line LCD display and LED status indicator
Printer graphical notifications: empty input hopper, empty/low
level ribbon alert...
System
| | |
| --- | --- |
| Memory | 64M RAM |
| Communications | USB |
| Power Supply | AC90-125V, 220-240V, 50/60Hz |
| Temperature | -20° / 60° C (-4° / 140° F) |
| Humidity | 20% to 90% non-condensing |
Dimensions
| | |
| --- | --- |
| Dimension (W × L × H) | 436 x 340 x 297 mm (17.16" x 13.38" x 11.69") |
| Weight | 20 kg (44.09 lbs) |
Encoding
Available modules:
• Magnetic stripe encoder ISO 7811
• Dual contact and contacless encoder
Reviews
There are no reviews yet.
Add review