Evolis Cleaning Kits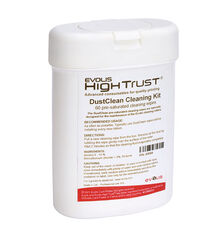 60 pre-saturated cleaning wipes for the Evolis card printer range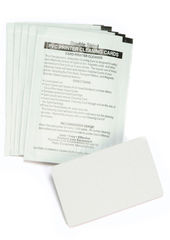 10 adhesive cleaning cards for the Evolis Securion card printer
Every Evolis ID card printer requires routine cleaning. Evolis recommend cleaning the printer every time you change the ribbon, however, we recommend cleaning the printer every 1000 cards printed.

Our Evolis cleaning kits are designed to aid the lifespan of your card printer and maintain the performance and high quality production of plastic id cards.

You should clean the print head with the cleaning swabs
Clean the inside / run of the card printer with pre-saturated cleaning cards
Clean the rollers with pre-saturated cleaning wipes.

Evolis card printers are good at letting you know when they require cleaning. Each printer has an onboard system that records the amount of cards produced, typically every 1000 cards. The notifying element, whether this is an LED or an alert on the printer display, will notify you when cleaning is required.

Please Note: All Evolis cleaning kits work with all Evolis card printers

BUY ONLINE
5 cleaning swabs and 5 adhesive cleaning cards for the Evolis Zenius, Primacy and Elypso cleaning kit.