Fargo DTC1000Me
Description

| | |
| --- | --- |
| | |

Designed for small to medium businesses, the DTC1000Me provides maximum efficiency in a sleek user-friendly design. This printer is virtually maintenance-free and prints full-colour plastic ID and technology cards on a budget.





Take advantage of the built-in and optional features that suit your business:
Single-sided printing option provides more space for company or cardholder information and security features.
Network your printer in seconds with optional Ethernet connectivity to access remotely and in networked card printing environments.
The DTC1000 enables migration to contact and contactless smart cards (including HID iCLASS® technology) or simple magstripe and proximity cards with optional technology card encoders.
Erase and rewrite eco-friendly feature makes the DTC1000 ideal for temporary ID cards, such as visitor badges.
Prints on a variety of card thicknesses for simple loyalty cards to more sophisticated access control badges right out of the box, as thin as 9 mil up to 40 mil.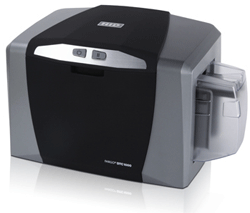 The DTC1000Me adds a level of convenience to easily print what you need, including:
Easy, all-in-one print ribbon and card cleaning cartridge simplifies the ribbon loading process.
Built-in Swift ID™ badging application software enables you to create ID badges in seconds without having to install any additional software.
Edge-to-edge printing in full-colour or simple black and white.
Economical half-panel ribbons to personalize pre-printed cards with a photo and bar code.
Its intuitive design providing instant system status through colour changing buttons.
Industry's first inline card printing and technology card encoding with one connection using USB or optional Ethernet connectivity.
The FARGO® DTC1000 is built with Genuine HID™ technology and is fully interoperable with other products in the HID ecosystem, enabling organizations to leverage their existing HID technology investments.
Encoding Features:
Magnetic stripe encoder - 1, 2 and 3 track.
Smart card contact station
Combined MIFARE® contactless and contact encoder.
Optional Features:
Lamination Module
Additional Encoding Options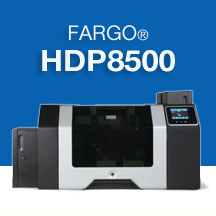 The DTC1000Me provides an ideal card printing solution for small businesses, schools, and retail stores and outlets that need a simple, reliable, and affordable means of printing and encoding photo ID cards. Its sleek user-friendly design is geared towards anyone looking for a high-quality card personalization printer for making great-looking, full-colour plastic ID and technology cards on a budget.
Simple to use. All in one cartridge loaded ribbons with integrated card cleaning and a colour changing status interface provides for simple maintenance and requires hardly any user training.
Printing out of the box. Unique embedded badging application for card design and printing right out of the box without the need of extra software.
More versatility. Available in single- or dual-sided version; its built-in erase and rewrite capabilities (for visitor badges, transit cards, etc) reduces expensive waste.
Highly reliable. Simply prints great looking ID cards and is backed by a two year warranty.

Fargo DTC1000Me
Part No
Ribbon Description
Images
Panels
Click To View Product

45101

Fargo 1 Panel

1000 Images
Premium K

45102

Fargo 1 Panel

1000 Images
Standard K
45103

Fargo

1 Panel
1000 Images
Blue
45104

Fargo

1 Panel
1000 Image
Green

45105

Fargo

1 Panel
1000 Image
Red
45106

Fargo

1 Panel
1000 Image
White
45107

Fargo

1 Panel
1000 Image
Gold
45130

Fargo

1 Panel
1000 Image
Metallic Gold
45131

Fargo

1 Panel
500 Image
Silver
45111

Fargo

1 Panel
500 Image
Black
45113

Fargo

1 Panel
500 Image
KO
45117

Fargo

1 Panel
1000 Images
Standard K
44261
Refill cartidge
N/a
N/A
45000

Fargo

5 Panel
250 Image
YMCKO
45010

Fargo

6 Panel
200 Image
YMCKOK
45014

Fargo

5 Half Panel
350 Image
YMCKO
45029

Fargo

5 Half Panel
350 Image
YMCKO
45015

Fargo

5 Panel
250 Image
YMCKO
Downloads/Spec
Side Printing: Single
Print Method: Resin thermal transfer
Resolution: 300 dpi
Colors: Monochrome - black, green, blue, red, white, silver metallic or gold metallic
Print Speed: 6 seconds per card (K*); 8 seconds per card (KO*)
Included Software: and FARGO® Workbench™ printer maintenance and diagnostic software with Color Assist™ spot-color matching
Data protection: AES-256 encryption on the printer over a secure network
Card capacity: 100 card input, 30 card output
Accepted Card Sizes:
CR-80
CR-79 Adhesive Back
ENERGY STAR® Certified Product:
Provides organizations with a high-performance, energy-efficient photo ID printing solution that supports corporate sustainability initiatives while reducing costs.
As part of its new ENERGY STAR rating, the default time for sleep mode has been lowered from two hours to five minutes, and printer design enhancements reduce the power consumption while in standby or sleep mode. (ENERGY STAR qualified card printer (base models only without encoders))
Printer Options:
Single wire Ethernet and USB 2.0 interface for in-line printing and encoding
Wireless connectivity with Wi-Fi® accessory (with Ethernet-enabled printers)
Easy-to-use (EZ) disposable ribbon cartridge or eco-friendly and more economical (ECO) refillable ribbon cartridge (standard black resin)
Resin-erase and rewrite capability for visitor badges and temporary IDs
Magnetic stripe encoder
Printer cleaning kit
Ethernet with internal print server
Reviews
There are no reviews yet.
Add review