ID Cards
We have been providing staff ID cards for over 10 years now and we believe that we are a preferred supplier for most organisations within the UK; our process is simple, and cost effective.
On a daily basis, we are providing identity cards to organisations all over the UK like PepsiCo International, aka Pepsi.
We don't just provide cards to large companies but we do find that we are more in our comfort zone when it comes to schools and the education industry as we understand the requirements they may have to meet and the reasons why they need id cards.
More often than not when our customers ring in the first question they ask is how will the design look? We reply with the design of the cards is totally open to your requirements, we don't usually stick to templates as we believe id badges should be bespoke to your organisation, after all they are identity cards.
Basic guidelines below (Please remember that the design is totally bespoke, below is just an example):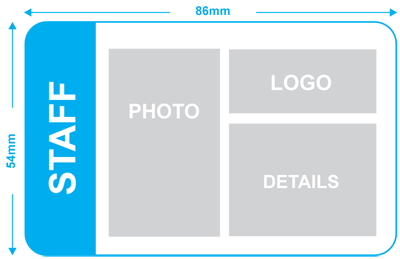 You can incorporate any logo or any colour onto your id cards, so please feel free to make them as colourful as you can, we believe the brighter they are the better they stand out making it easier to identity those on site.
Below you will find just few of our reviews on our id bureau:
Company Name: Aster Group

Fast, friendly and efficient service

Lesar really bent over backwards to help us when we needed something fast.
Our contact there was freindly and knew what...

Company Name: Scientia

Quality service & production of ID cards

Very helpful during the design process especially concidering we are a small volume ID card customer and each card had to have different information on them. Nice design, good finished...

Company Name: St Anne's RC Primary School

Speedy and efficient service

Another school in Liverpool recommended Lesar UK to us as we were looking to change/update our school security badges.

Lesar UK Ltd were extremely friendly and efficient and...