ID Security for the NHS: Featuring the NHS Rainbow Lanyard
ID Security for the NHS: Featuring the NHS Rainbow Lanyard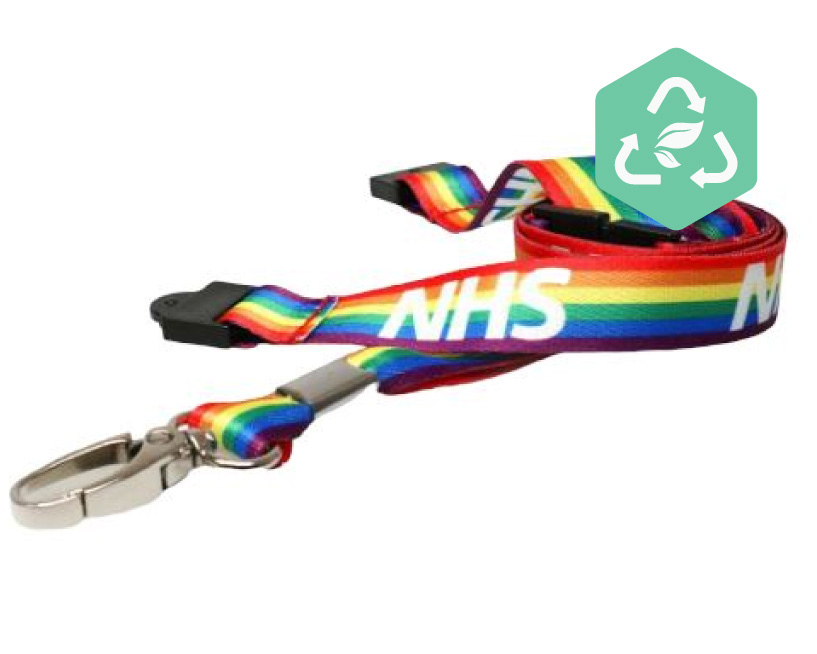 The NHS Rainbow Lanyard isn't just a piece of colorful accessory – it's a powerful symbol of the NHS's commitment to diversity, inclusion, and support for diverse communities. This lanyard, adorned with vibrant rainbow hues, reflects the NHS's dedication to providing equitable and compassionate healthcare services to everyone, regardless of their background or identity.
The Symbolism of the Rainbow Lanyard
The rainbow symbolizes a spectrum of colors and identities, making the NHS Rainbow Lanyard a powerful statement of acceptance and support. By wearing this lanyard, NHS staff not only express their commitment to providing compassionate care but also stand in unity with diverse patients, colleagues, and communities.
Benefits of the Official NHS Rainbow Lanyard:
Inclusivity: The lanyard sends a clear message of inclusivity, letting patients and colleagues know that you stand by their side, regardless of their identity. This can help put patients at ease who may feel judged, or at risk because of their identity.
Visibility: The vibrant rainbow colors make you easily identifiable as an ally and a supportive healthcare professional.
Conversations and Support: Wearing the NHS Rainbow Lanyard can spark conversations about diversity and inclusion, fostering an environment of open dialogue and understanding.
Trusted Supplier to the NHS
We take immense pride in being a frequent supplier to the NHS, an organization that embodies dedication, empathy, and care. Our longstanding partnership with the NHS underscores our commitment to providing high-quality, trusted products. Rated "Excellent" on trustpilot, and trusted by many sites. Just take a look at a few...

How to Obtain Your NHS Rainbow Lanyard:
Getting your hands on the official NHS Rainbow Lanyard is simple and meaningful. Contact us and after we verify you are an official NHS member, we will delivery your lanyards to you! Please note - we only deliver to NHS sites, guaranteeing that the lanyards reach the deserving hands they are intended for.
Our Additional NHS Products: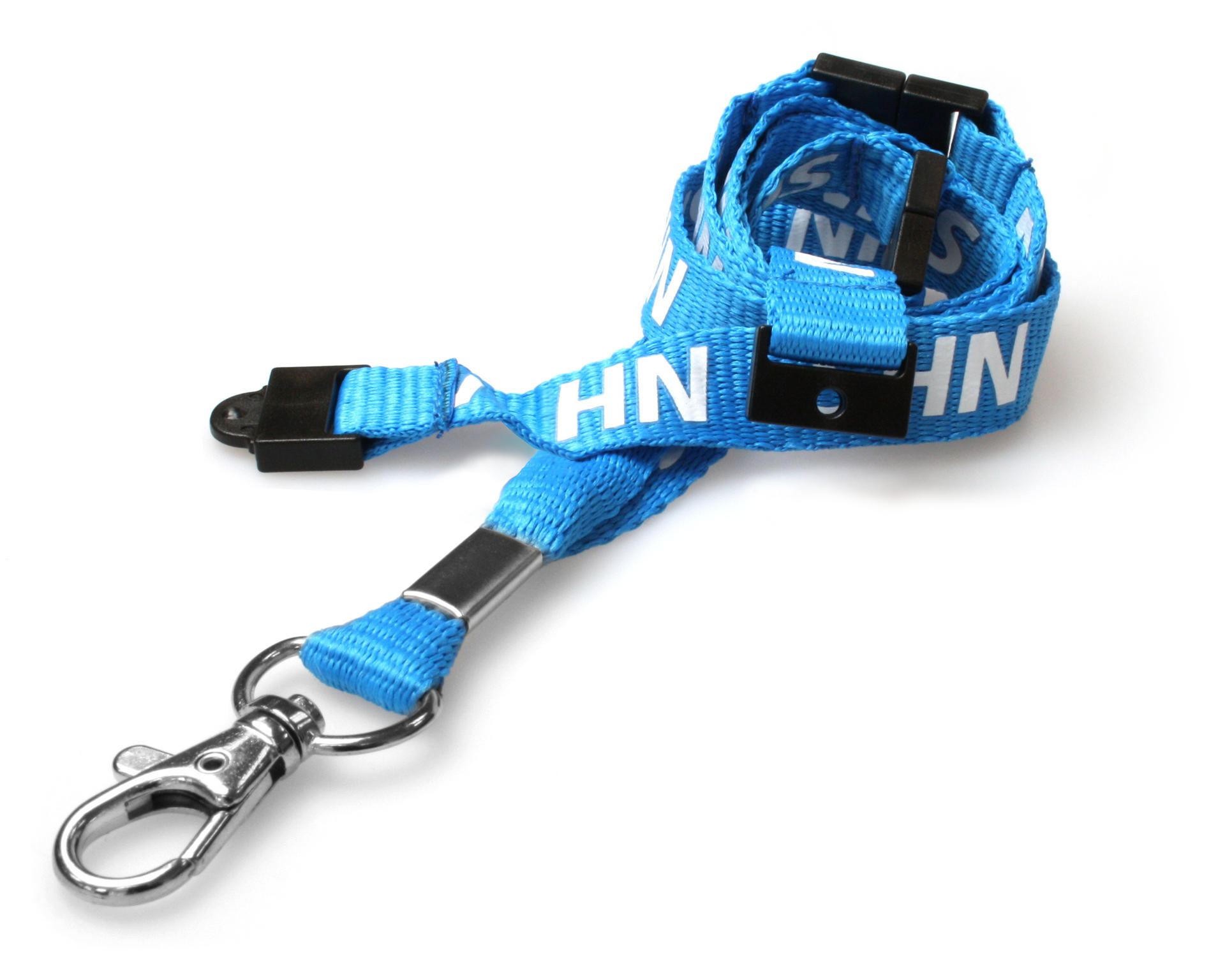 Printed NHS Lanyards: Elevate your NHS identity with our Printed NHS Lanyards, featuring the iconic NHS logo elegantly printed in white on a distinguished NHS blue backdrop.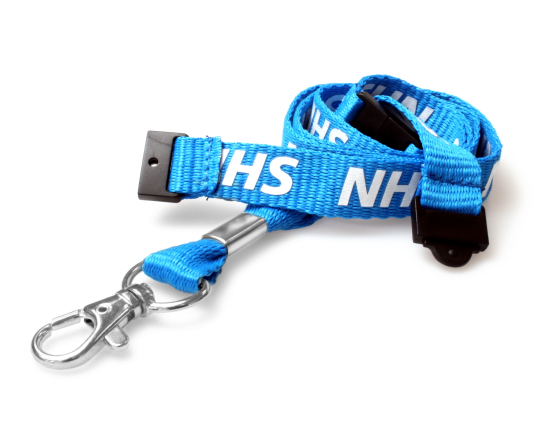 Printed NHS Lanyards with Triple Breakaway: Experience the same profes­si­onalism and safety as our standard Printed NHS Lanyards, now with the added assurance of a triple breakaway attachment option, designed to ensure safety and comfort for staff. Hospitals and NHS buildings are ideal environments for these lanyards, as the breakaway mechanism guarantees the lanyard will release easily if pulled, preventing strain on staff members' necks.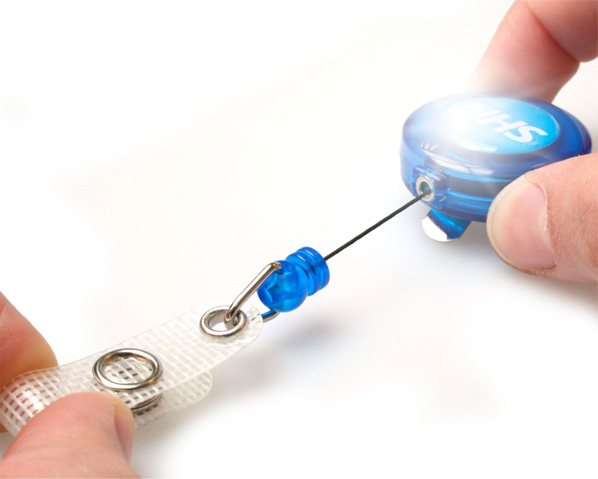 NHS ID Badge Reels with Strap Clip: Designed with precision according to NHS guidelines, our NHS ID Badge Reels with Strap Clip offer a secure and convenient way to display staff ID and proximity cards. The reinforced strap clip ensures complete safety and visibility of ID cards, while the belt clip provides a reliable attachment to clothing. Available exclusively to NHS organizations.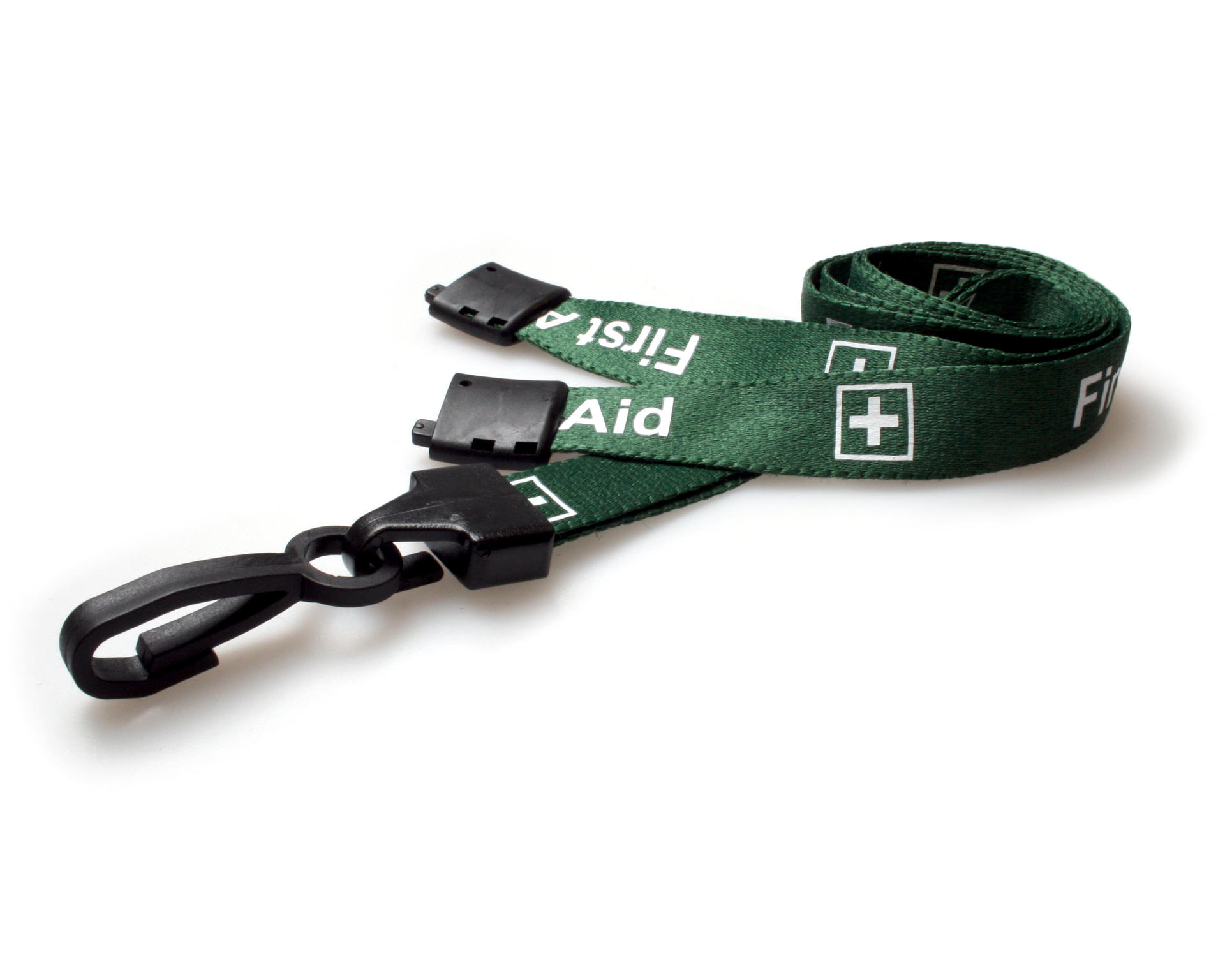 Printed Green First Aid Lanyards: Our Printed Green First Aid Lanyards are designed to stand out and serve a critical purpose. Featuring the words "First Aid" printed in white on a vibrant green background, these lanyards are made from high-quality 15mm polyester. The safety breakaway and metal lobster clip attachment ensure both functionality and safety. These lanyards are perfect for displaying ID cards, visitor passes, or attaching other essential items, making them indispensable in healthcare and emergency settings.




BespokeStrap Clips: Our versatile Bespoke Strap Clips offer innovative solutions for a range of needs, including unique applications like sanitizer holders. With extended length for added functionality, these clips are commonly used by organizations like the NHS to securely attach badge holders and ID cards to clothing. The longer design is especially useful for wrapping around sanitizer containers, ensuring easy access and hygiene. These strap clips exemplify our dedication to adaptable and practical accessories for diverse requirements.
Conclusion:
The NHS Rainbow Lanyard isn't just a piece of fabric – it's a statement, a symbol, and a source of pride for both NHS staff and the patients they serve. As a trusted supplier to the NHS, we are honored to be a part of this movement toward a more inclusive and supportive healthcare environment. Wear the NHS Rainbow Lanyard with pride, and let its vibrant colors reflect the vibrant spirit of unity and care that defines the NHS.
For inquiries and orders, contact us today and join us in celebrating diversity, inclusivity, and the unwavering commitment of the NHS.