Magicard Pronto 100 ID Card Printer

Magicard are proud to introduce the new Pronto100 designed from the ground up to be the best in its class. Make no mistake about its tiny frame, the Pronto100 single-sided printer packs a mighty punch.
Magicard have focused on important features such as speed, quality and environmental footprint to exceed the expectations of today's tech-savvy and connected consumer.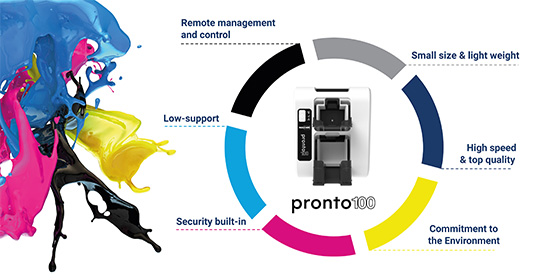 Small footprint
Small but mighty, the Pronto100 proves that the best things come in small packages. With its small footprint (255 x 208 x 180mm) with closed hoppers and (309 x 208 x 180mm) with open hoppers and its light weight design of only 2.9kgs, the Pronto100 has been made to fit anywhere and still look slick, whether that is at home, or at your office.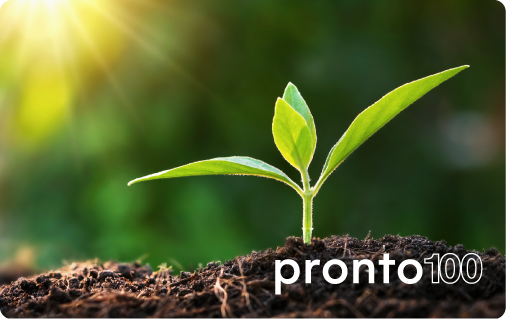 The Pronto100 is manufactured and packaged with over 75% recycled or recyclable material, and with Magicard's ongoing commitment, its focus continues on the environment by planting a tree for every printer sold. Since 2018, in conjunction with One Tree Planted, over 30,000 trees have been planted.
High speed
The Pronto100 is super quick to set up, operate and quick to deliver the best results for your business. Magicard offers the highest print speed in Magicard's smallest printer package available to date.
Print high definition photo quality images at just 23 seconds per card (single-sided), that's 157 cards per hour!
Print standard photo quality images at just 18 seconds per card (single-sided), that's 200 cards per hour!
Print monochrome images at 4.7 seconds per card (single-sided), that's 766 cards per hour!
Quality
The Pronto100 packs a mighty punch delivering high definition photo quality printing right out of the box. The Pronto100 delivers photo-realistic colour reproduction, and with top-quality edge-to-edge printing guaranteed, your printing cards will never look so good.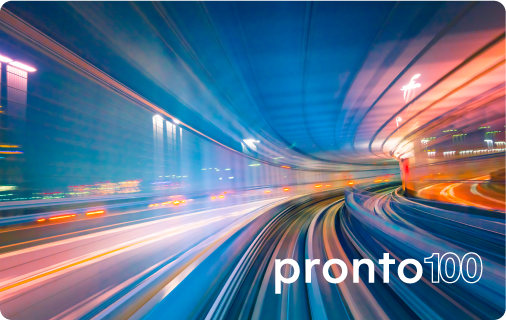 Built in simplicity
Despite its advanced features, the Pronto100 is no prima donna. Like all Magicard products, the Pronto100 has been designed to be low maintenance, making it super easy and quick to setup and has been built with the best quality materials in a world-class manufacturing facility.
Clix
While the Pronto100 is simple and standalone, the new Clix Remote User Interface common to all DTC printers offers more advanced management of all aspects of printer set-up, maintenance, diagnostics and operation if needed.
Users can remotely monitor activity and check the status of the Pronto100 and its consumables from any web-enabled device on the same network. It can also be used as an ordering system when your ribbon cartridge runs low.
HoloKote
The Pronto100 may be small, but the printer comes equipped with the very best security features that are found across all Magicard printers. The Pronto100 comes with 3 HoloKote designs, pre-installed.
Security
Digital shredding
Once data has been used for a print job, it is digitally fragmented, rendering it irrecoverable. This ensures that the Pronto100 is not storing sensitive data.
Anti-fraud
The Pronto100 has the ability to print a HoloKote watermark on every card.
HoloPatch
When used with HoloPatch cards, one area of the HoloKote watermark can be highlighted as a high visibility security seal.
Did you know Lesar houses the very best ID card printers the industry has to offer for producing ID cards of any security level?
We also have a highly skilled and experienced in-house ID card printing team that can offer help and advice if you need assistance with features, design, and much more.
Would you like to know more? Contact us today