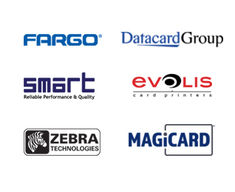 Matica XL8300
Description
With an output of up to 128 cards per hour in the monochrome mode and up to 85 cards per hour in full color, this model can give you a peace of mind even in the times of pressing deadlines and mounting tasks. Its compact size makes for easy on-site event badge printing without compromising the office space.
Specifications
LAYOUT PERSONALIZATION
Method - Dye sublimation, Thermal Transfer
Mode - Retransfer
Resolution - 300 dpi
Speed - 128 cph
ENCODING
Encoding - Contactless chip
CARDS
Format & materials - ABS, CR80 plastic or metal, PET, PVC
Feeder - 100-card feeder
CONNECTIVITY
Connectivity - Ethernet, USB
PLATFORM
Printer dimensions (L x W x H) - 549 x 322 x 411 mm
Overview
Especially during large events or when your guests come and go throughout the day, a bold or color-coded oversized badge can help identify your visitors at a glance, as well as help your staff regulate the entrance to sitting zones or VIP events.
Event badges also serve a function for your attendees, for instance, by making staff members easy to spot. Likewise, the guests at a professional event can rely on these oversized cards to recognize each other, strike up a conversation and establish connections outside of the formal networking events.
Matica's XL8300 further incorporates a number of security features to round off its event badge printing offerings. These include a contactless chip encoding option for sites with specialized security requirements, as well as UV printing that lets you add an invisible logo, text or watermarks to protect your badges against forgery.
In sum, the XL8300 is a perfect choice for high quality color printing on oversized cards. It accommodates the needs of the event management industry particularly well, thanks to its output capacity and additional security features.
Reviews
There are no reviews yet.
Add review