Mid month special offer Magicard Rio Pro
The Magicard Rio Pro is now on offer from Lesar UK, the offer consists of one complete system with the functionality of creating Holo-kote images over your staff id cards, if you're unsure what the Holo-Kote feature is please keep reading.
This Magicard printer is used by many organisations all over the UK, with its superior card printing quality and the option of printing either single-sided or double-sided supplying the demand for ID cards has never been easier. The printer not only offers superior print quality but also offers multiple encoding options such as magnetic stripe, contact, and contactless cards.
With the offer from Lesar UK you get the added feature of the Holo-Kote that enables you to create a secure overlay that makes duplicating your cards near impossible.
The overlay is standard in all id card printers whether they are Re-transfer or Direct to card, the overlay acts as protection to the card and is usually transparent however, with the Holo-Kote security feature which is patented by Magicard it enables you to create an anti-copying watermark which is printed across the entire card surface. This feature is manufactured within the printer and soon to be an additional cost but Lesar UK for a limited time are offering the Holo-kote feature for free with the Magicard Rio Pro.
If you would like more information about our mid month special offers, please feel free to contact us on 0800 059 9198 or email enquiries@lesar.co.uk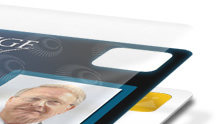 RRP £2095.00
Offer £Contact us