ProVisit Versus Paper – Visitor Management Redefined
Slice through the paperwork with a cutting-edge digital visitor management system.
From its botanical origin as papyrus though to the mass-produced variant abundant in today's offices, paper has been a mainstay in cultures around the world for millennia. Offering a canvas for ideas great and small, letters condemnatory and congra­tulatory, and homework tedious and – well – even more tedious, few can deny paper's versatility.
Nonetheless, as security and environmental concerns proliferate (see how Lesar is working to promote sustainable development here), digital alternatives to paper-based systems have increasingly begun to take centre stage in the minds of many forward-thinking organisations looking to protect both the planet and their data.
Visitor management constitutes a sphere of operation in which many organisations still employ a paper-based system, often in the form of visitor logbooks kept in their reception areas. Is this really the most effective solution commensurate with the technologies available in today's digital age? We invite you to read on and explore through a comparative lens the dynamic world of digital visitor management (naturally, we'll use ProVisit as a focal point) versus its stationary paper alternative.
COVID-19 Combating Features
Fight the pandemic proactively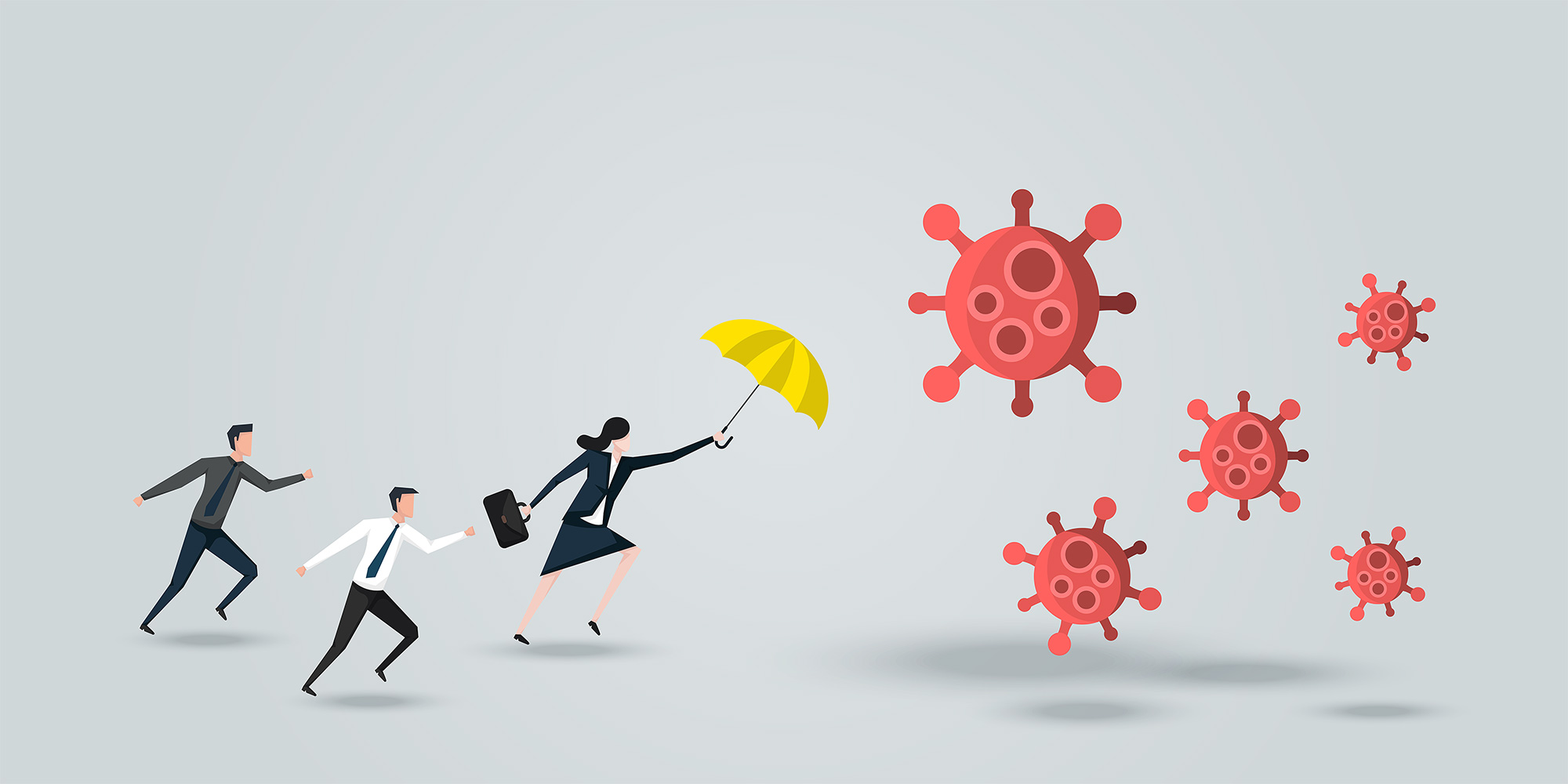 'Safety doesn't happen by accident' – author undetermined
ProVisit Solutions:
Organisations operating at their premises during the COVID-19 pandemic need to develop and maintain an environment that makes viral spread as difficult as possible.
In the fight against the pandemic, proactiveness is key. In this regard, digital visitor management opens up a whole world of opportunity to safety-conscious organisations. ProVisit boasts a number COVID-19 combating features, several of which come into the equation before visitors even set foot through the door. These include:
Pre-visit Inductions & Courses – Send mandatory and customised inductions or courses to visitors via email prior to their arrival, ensuring that they are made aware of any health and safety measures you wish to highlight. Failure to complete inductions and courses marked as mandatory leaves visitors liable to 'quarantining' should they arrive on-site (see 'Visitor Quarantining').
Pre-visit Health Declarations – Ask visitors to confirm their health status prior to their arrival and get the ball rolling quicker should a visit need to be rearranged or a virtual/­telephone meeting scheduled.
Questionnaire on Arrival – Have visitors complete customised COVID-19/­health & safety questionnaires as part of their sign-in experience on-site. ProVisit's storyboarding feature allows visitors to be presented with a range of pre-selected pictures, videos and blocks of text during sign-in.
Visitor Quarantining – Prevent unexpected or unprepared visitors from mixing with others on-site by placing them in 'quarantine'; a notification is sent to a designated host, requiring that they review the visitor's information and responses before making an appropriate decision.
Occupancy Management – Set a limit the number of visitors allowed on-site, automatically monitoring levels throughout different sections of offices and buildings as required. A visitor set to enter an area where the limit has been reached will be placed in quarantine while the designated host is automatically notified and asked to make an appropriate decision.
Contactless sign-in – Provide visitors with QR codes via email to scan on their arrival, eliminating the need for them to touch screens or use "communal" reception pens when signing in.
How does a paper logbook compare?
Unfortunately, there is little opportunity for proactiveness with paper logbooks. Furthermore, whether visitors are required to touch the logbook themselves or verbally provide personal details (potentially revealing personal data to persons unauthorised to handle such data) to receptionists, unnecessary health risks are introduced.
Simply having visitors' contact details available via logbooks can help with any track and trace efforts. Still, ProVisit is able to achieve the same in a clearer way, as well as do much more!
On Site Security
Protect visitors, contractors, employees and assets
'An ounce of prevention is worth a pound of cure' – Benjamin Franklin
ProVisit Solutions:
Issue photo ID cards to visitors and contractors upon sign-in, ensuring that all persons on site are easily identifiable. Organisations may wish to recruit different lanyard colours to quickly differentiate between visitors, contractors and employees.
Set pass expiry times for visitors and contractors. Any individuals still signed-in after pass expiry can be identified and dealt with accordingly.
Add security-oriented notes to visitor profiles in the event of contraventions of company policies, allowing unwanted visitors to be identified across sites via subtle alerts and handled appropriately.
Digitally 'assign' assets to visitors, employees and contractors, creating a clear trail of who has what when.
How does a paper logbook compare?
In themselves, paper logbooks have limited scope for improving on-site security. Of course, requiring visitors to sign-in is to be preferred over granting them free rein as soon as they walk into a building. However, the lack of photographic identification and potential for fake names to be used and/or illegible handwriting means that paper logbooks may fall short of useful in the event of a criminal incident and subsequent investigation.
Data Protection
Protect personal data while achieving GDPR compliance
'Privacy is not something that I'm merely entitled to, it's an absolute prerequisite' – Marlon Brando
ProVisit Solutions:
ProVisit accommodates a high level of data security. Visitors signing in or out at a digital kiosk will not accidentally chance upon previous visitors' personal details. Key visitor data is made accessible only to authorised users within the organisation. Data deletion is an uncomplicated process.
Compliance with the Global Data Protection Regulation (GDPR) is made simple. For example, under Article 7 of GDPR, "Conditions for consent", we read: "Where processing is based on consent, the controller shall be able to demonstrate that the data subject has consented to processing of his or her personal data". With ProVisit, visitors can be informed at or even before sign-in how any personal data they provide might be used, then asked to sign to show explicit consent to this.
For a more comprehensive coverage of the GDPR and its implications on digital visitor management, click here.
How does a paper logbook compare?
In an ideal scenario, paper logbooks accurately reveal who has been on-site and when, and while that could prove useful in the event of a criminal incident, the visibility of this personal data can pose a security risk in itself. Article 5.1(f) of the GDPR requires that personal data be 'processed in a manner that ensures appropriate security…including protection against unauthorised or unlawful processing and against accidental loss, destruction or damage, using appropriate technical or organisational measures'.
Paper logbooks lying on a reception desk may expose visitors' personal data to other visitors, risking a contravention of the GDPR stipulation of 'appropriate security'. While logbooks that claim to be GDPR-compliant do exist, these are not inexpensive, and publicly visible reviews from online buyers indicate that visitors can be confused by their layout.
Fire Evacuations
Prioritise getting everyone to safety
'Preparation is everything' – David Robinson
ProVisit Solutions:
Every second counts in a fire evacuation scenario, even in fire drills, since these are intended to test the effectiveness of evacuation plans.
With the touch of a button, ProVisit can produce a comprehensive report of all persons on site, saving valuable time and allowing reception/­admin staff to focus on getting to safety. Given that ProVisit can be offered as a cloud-based solution, fire reports can be accessed at fire assembly points via any competent device connected to the internet.
How does a paper logbook compare?
The very existence of a visitor logbook on site suggests that a premises may not have a single point of reference with which to view a list of everyone on site.
Having to collate lists of people from different systems is likely to eat up valuable time in a fire emergency; in addition, the potential for illegible handwriting in logbooks can create unwanted confusion as to the identity of visitors on site.
Keeping Up Appearances
Reflect your brand image & make a great first impression
'Your brand is the single most important investment you can make in your business' – Steve Forbes
ProVisit Solutions:
ProVisit offers a modern way to reflect and enhance your brand in what is likely the first indoor area visitors will see – your reception or front desk. Greet visitors with a dynamic sign-in screen featuring your organisation's logo on either a desk-mounted tablet or a custom-made kiosk. The flexibility in design options ensures that the physical elements of ProVisit reflect your organisation in a way that you desire.
Emails sent to visitors prior to their arrival can also be branded and personalised to provide both a professional and welcoming first impression.
How does a paper logbook compare?
Paper logbooks realistically do little to boost a company's brand image. If anything, it could be argued that they detract from otherwise modern and sleek front desk environments. As more and more organisations adopt digital visitor management solutions, those that continue to use paper logbooks risk being deemed archaic in comparison with their competitors and/or industry standards.
Personalised Sign-in Flows
Direct visitors and contractors to what matters
'The first rule of any technology used in a business is that automation applied to an efficient operation will magnify the efficiency' – Bill Gates
ProVisit Solutions:
A sign-in flow represents the individual 'path' an individual follows during their sign-in process. What do they see? What questions are they asked? Where do they go? And what is happening behind the scenes to accommodate all of this? These are all important questions pertaining to sign-in flows.
It may be that some visitors or contractors are to set foot in a factory. Others may be due to enter areas where food is prepared. Clearly, depending on the purpose of a visit different guidance and policies may apply.
ProVisit allows separate sign-in flows to be created that are tailored to the needs of each visitor/­contractor type. Each flow can have its own storyboard that displays only relevant policies, videos, images, and text. Furthermore, ID cards can be printed with details of a visitor's access rights as well as the purpose of their visit.
How does a paper logbook compare?
In order to properly personalise sign-in flows using paper logbooks, several books would likely be needed to differentiate between different visitor and contractor types. At a stretch (though decidedly unlikely) these books might even contain separate health and safety policies relevant to each visitor type. Still, ProVisit evidently offers a more well-rounded solution given that it can show any number of instructional videos, images and texts, as well as print customised passes/ID cards.
In Conclusion
Interested in making a switch?
In this article we have taken a surface look at ProVisit and explored some of its key advantages over paper-based systems for visitor, contractor and employee management. Should you be interested in upgrading your organisation with ProVisit, or if you simply want to learn more about what it can do, please visit www.­provisit.­co.­uk or contact us via the following:
Email: enquiries@lesar.co.uk
Telephone: 0333 7000 123