Updated: Top 10 ID Card Printers for 2022
We've compiled the following guide to help you pick the best ID card printers money can buy in 2022. With the collaboration of our experts here at Lesar, we have rounded up our favourite top ten UK card printers suitable for all budgets and both office and organisational use.
Whether you are looking to purchase a brand-new printer for id cards or upgrade your current ID card printer in 2022, the following printers all contain a compelling mix of features and are manufactured by companies you can trust. Our top 10 selections were formed by reviewing their features, including print, speed, and build quality, as well as print volume and affordability. We also considered their physical aesthetical appearance, ensuring that they don't detract from your office décor.
The following printers are our must-haves if you're in the market for one. Read on to find out why:
1. Magicard 600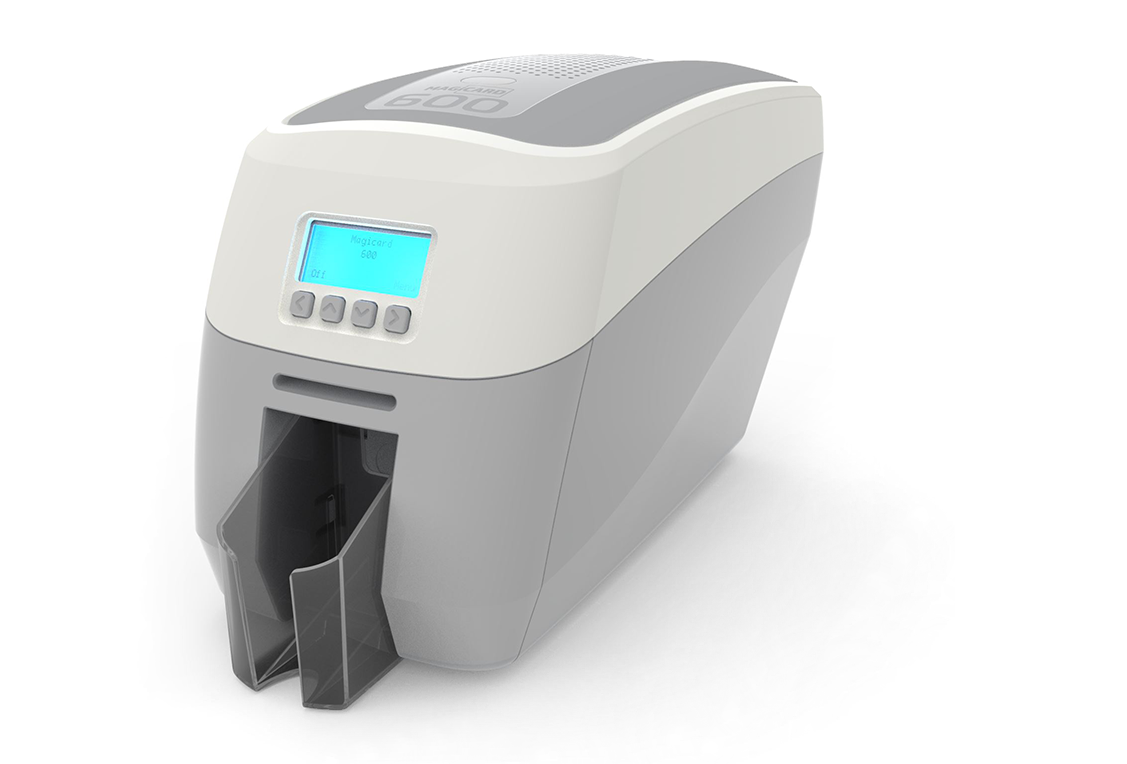 The latest Magicard 600 printer is the ideal solution for printing medium to high volume runs and comes with stringent security, including a three-year manufacturer warranty. Are you looking to upgrade your Rio Pro or Enduro3e? This one is for you.
If you're in the market for a pioneering direct-to-card high-resolution card printer, the Magicard 600 delivers superior full-colour print speeds of up to 190 single-sided cards per hour and includes out of the box security features that no other manufacturer offers.
With data protection becoming a key compliance and ethics issue for businesses and governments, the Magicard 600 benefits from a digital shredding capability that eliminates sensitive information once it has been used thereby rendering it irrecoverable, ensuring your machine is not a repository for holding onto data.
Magicard also offers anti-fraud security HoloKote technology across all their printers. The HoloKote feature prints a transparent secure watermark into the overcoat panel which can be customised to represent an organisation's logo or other design of your choice.
What makes this printer even more worthwhile is the special offer which offers a FREE upgrade to the dual-sided version for even more flexibility at no extra cost!
Magicard is also in partnership with OneTre­eP­lanted.­org, a non-profit organisation that plants trees around the world. Magicard is aiming to help restore the world's forests and this scheme makes it an envi­ron­men­tally sustainable printer to buy.
2. Evolis Primacy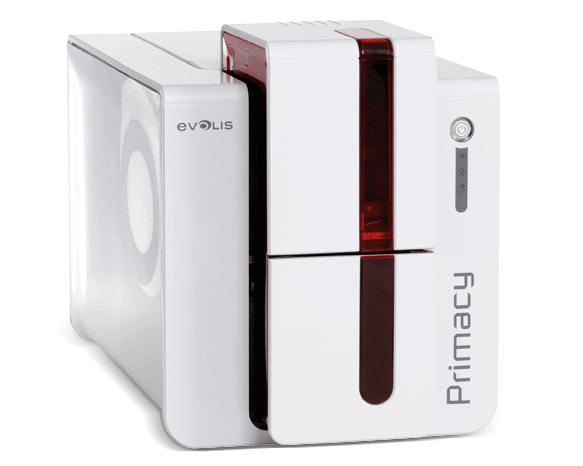 If you are looking for something faster, smaller, and super easy to use then the Evolis Primacy printer is the ideal solution for you compared with other direct to card printers available in the market. The Primacy is excellent for printing personalised cards starting from the most basic to the most secure.
Available as single or double-sided, the primacy meets card printing needs for medium and large runs and comes with a 300x600 dpi customisable resolution and excellent print quality, including a three-year manufacturer warranty on both the printer and its print head.
In addition to its impressive batch printing capacity designed to hold up to 100 cards at a time, it can also reach print speeds of up to 225 cards per hour for single-sided cards and 140 cards per hour for dual-sided. This is a great choice to save you time and increase productivity at your workplace.
Still uncertain? As part of the manufacturers "eco-design" approach which aims to reduce environmental footprints in all its products, Evolis prioritises the use of recycled materials in printers and consumables.
3. Magicard Pronto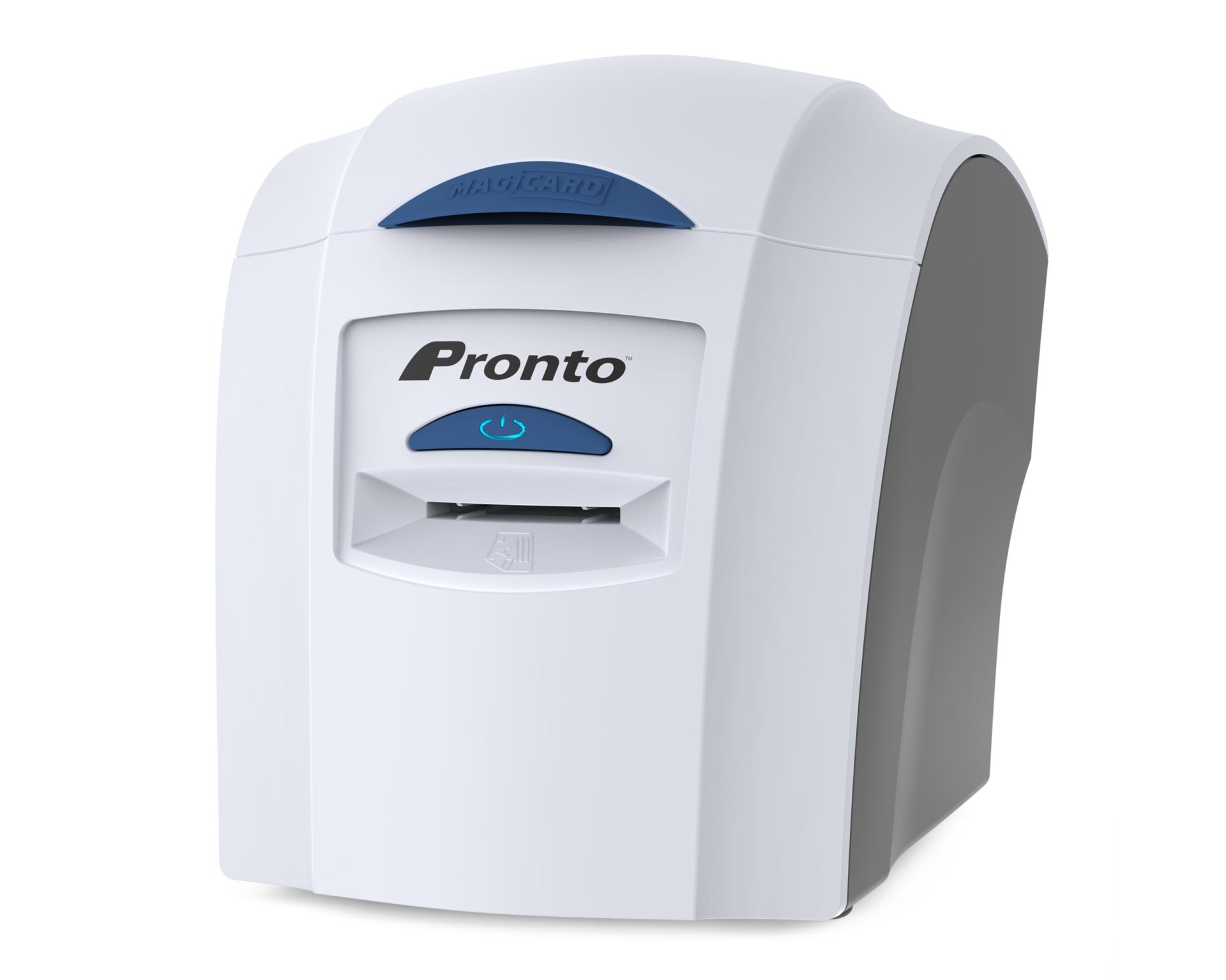 The Magicard Pronto card printer may not be the newest device on the market, but with its lightweight, compact design and incredible value for money, it makes it a suitable beginner choice printer for a small office or reception environment.
While the pronto is lacking input capacity feeders and output hoppers for regular card printing, the single card feed feature can create a professional edge to edge non-technology cards on-demand with high-quality colour, barcodes and text in just 35 seconds per card making it perfect for small volume printing.
The Magicard Pronto printer delivers low-cost printing and free card visual security as standard with four HoloKote watermark designs. Security can be further enhanced with magnetic stripe and smart card encoding options.
4. Zebra ZXP Series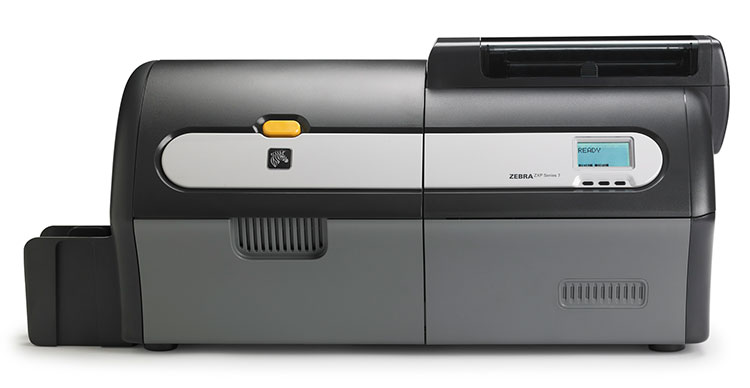 Utilising the latest in card-printing technology, the
ZXP Series 7 card printer
provides high-quality card printing, delivering fast yet reliable performance while offering users exceptional value by lowering the printer's total cost of ownership. Time after time, it prints sharp vivid cards with precise colour control.
With an impressive 200 card capacity feeder and 100 card output hopper, the Zebra ZXP Series 7 is one of the fastest, most robust printers on the market. If you require something that prints medium to high volume cards all day, this one could be for you.
The Zebra ZXP Series 7 also comes with a two-year unlimited warranty on both the printer and printhead.
5. Smart 51 Secure GDPR
The new Smart-51 printer is easily the next generation of its mid-range ID card printer platform. With its sleek modern design, The Smart 51 inherits the most successful elements of the Smart-50 series and takes it to another level with more functionality and advanced security features that only a few printers possess.
Enjoy a faster card issuance with an upgraded 10% faster print speed of up to 225 cards per hour for single-sided colour printing, utilizing the latest in technology to produce over 1 million colours at 300, 600 & 1200dpi printing resolution.
Carry out more batch printing functionality with 200 cards input feeder capacity with the cover open and 100 card output capacity, perfect for medium to high volume print loads.
With data protection becoming a key compliance for businesses, the Smart-51 has taken initiative to keep your data safe by adding a simple lockable lid modification to prevent sensitive information going into the wrong hands.
Need to leave the printer unattended? It also comes with a secure Kensington Lock feature which keeps your printer immobile, reducing the risk of your printer from being stolen.
IDP has a high reputation for producing reliable high-quality printers and offers a 5-year manufacturer warranty on the Smart-51.
6. Fargo HDP5000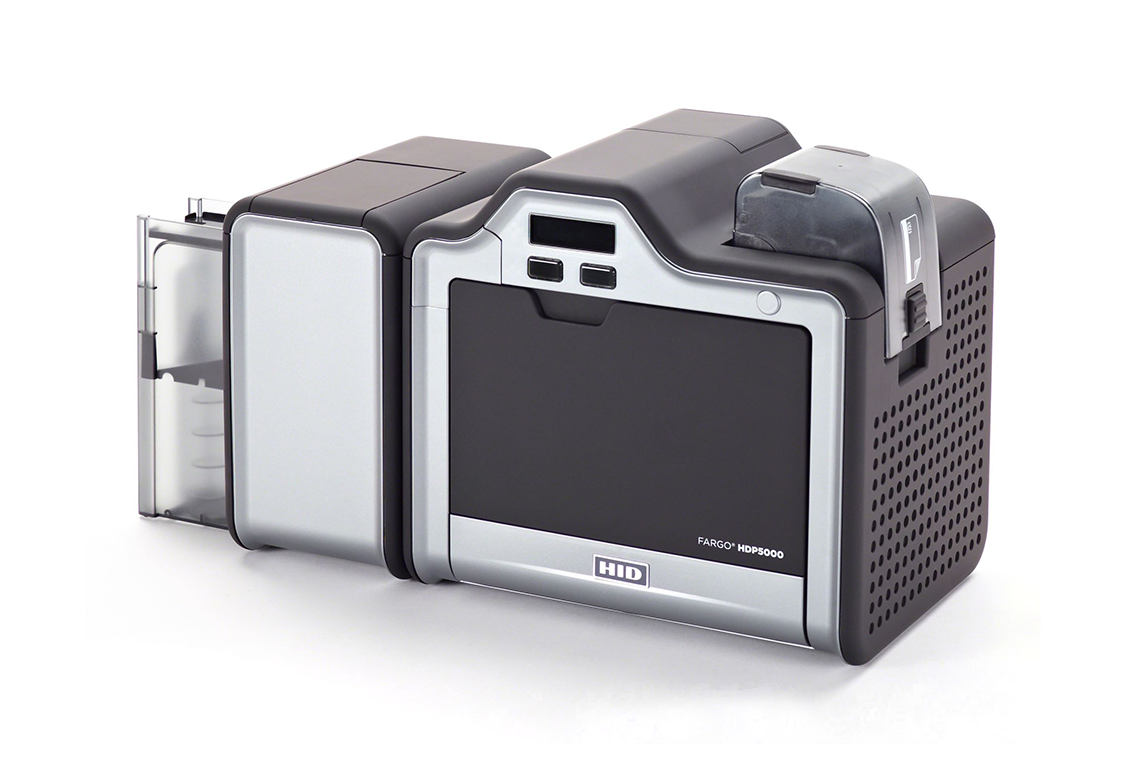 If superior print quality is what you're looking for, even on smart cards with embedded electronics, the HDP5000 card printer will deliver high definition photo-like images including detailed text at impressive print speeds of up to 32 seconds per card with YMCK.
The Fargo HDP5000 is a retransfer ID card printer with built-in high definition printing capability all at an affordable cost.
HDP film fuses to the surface of proximity and smart cards, conforming to ridges and indentations formed by embedded electronics. This printer can also be equipped with encoding modules such as HID proximity, iClass and Indala.
Sit back and let the printer do the work with more batch printing functionality, designed to hold up to 100 cards at a time with up to 200 card output capacity, making this machine ideal for medium to high print issuance.
The HDP5000 comes with a lifetime print head warranty and a 3-year warranty on everything else which means you don't have to worry about potential issues that may occur. This is because the print head never comes into contact with card surfaces or debris.

7. Fargo DTC 1250e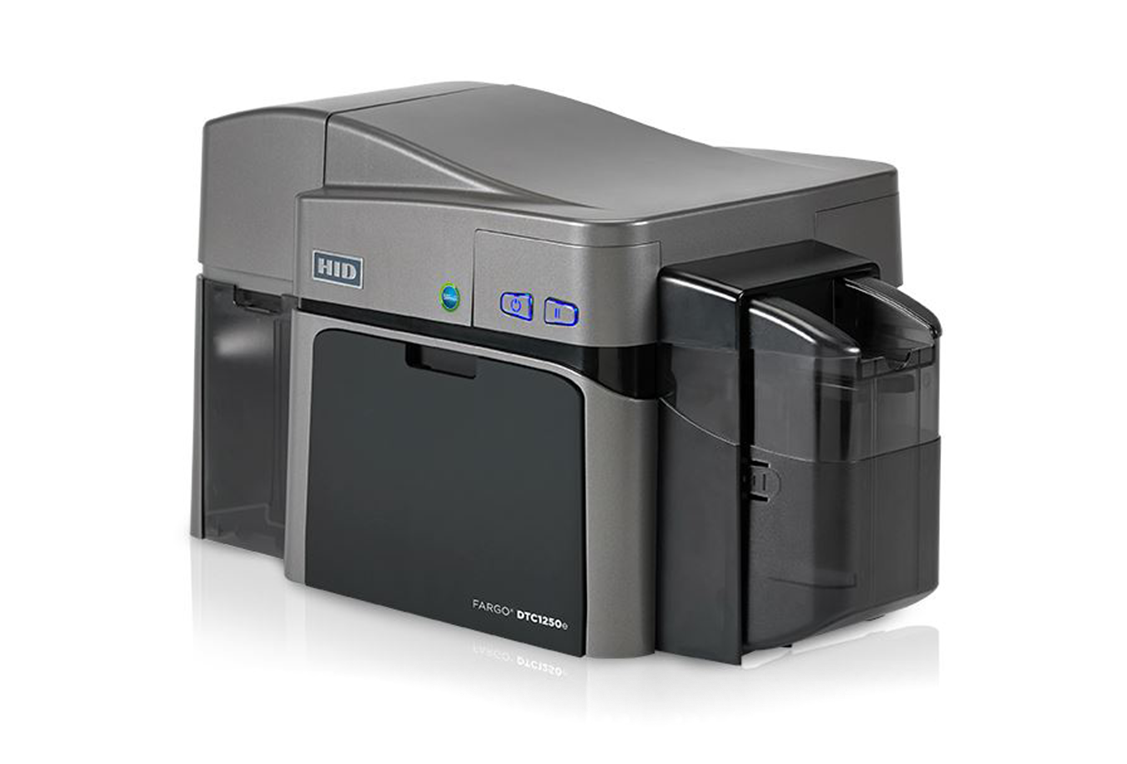 Another great option from Fargo, the Fargo DTC 1250e printer is an outstanding choice for anyone seeking a fast printer capable of producing more visually rich full-colour cards effortlessly at an affordable price. The 1250e is ideal for first-time buyers with low printing volume needs and keeps printing downtime to a minimum.
If you are looking to create your cards from scratch, then the included Asure ID software is perfect for helping you design custom ID cards on the spot.
The 1250e prints up to 16 seconds per card using YMCKO ribbons and includes a 100 card capacity feeder with a 30 card output capacity for single-sided or 100 cards for dual-sided if you have more print demand. Encoding options are available for selection pre-purchase.
The intuitive user-focused design of this low printing volume printer allows for easy setup and effortless to use. Follow the setup guide and get up and running in no time.
8. Magicard 300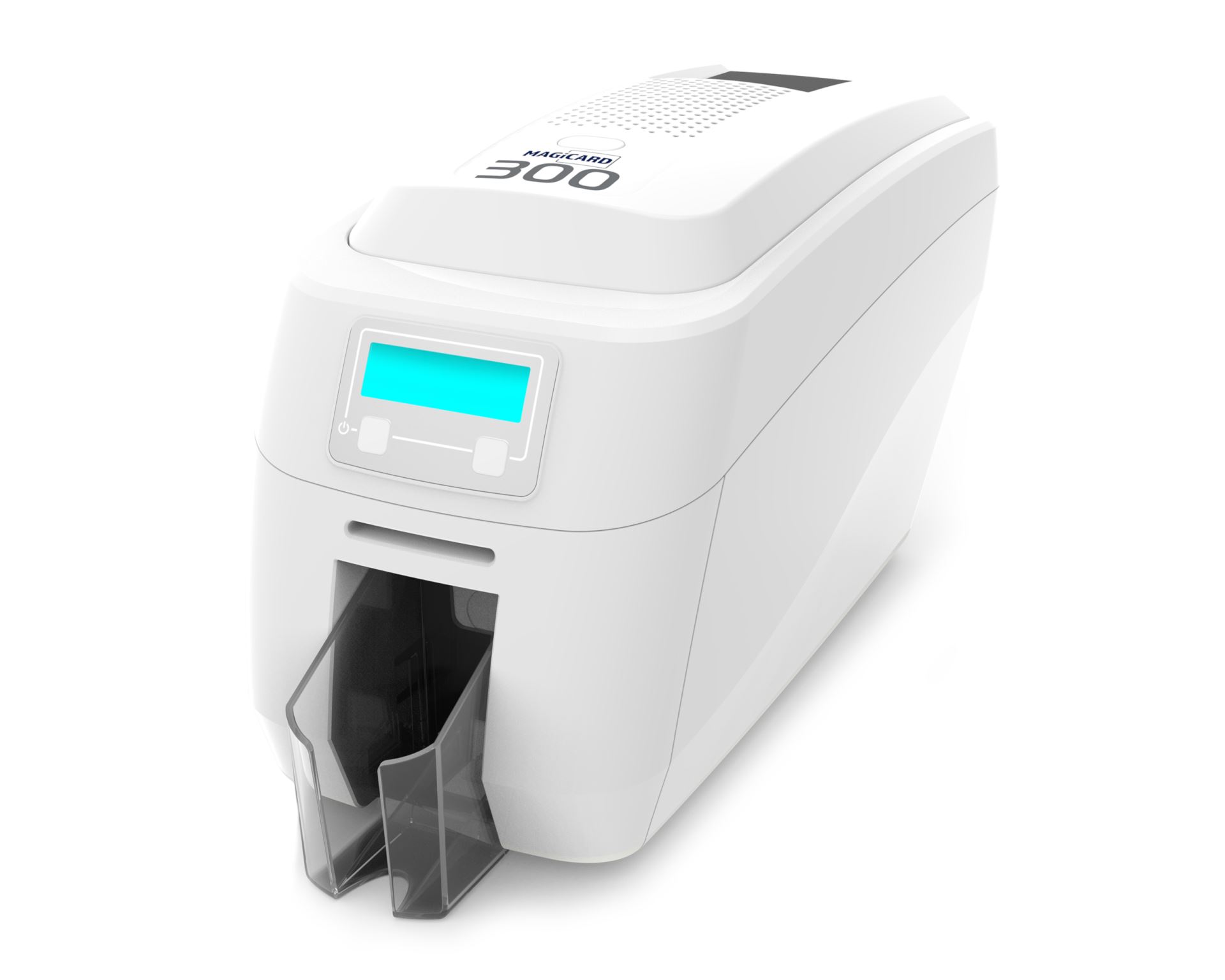 The Magicard 300 card printer is one of the most popular Magicard printers that deliver impressive performance in any printing environment along with the Magicard 600. They both offer exceptional printing speeds with the 300 falling slightly lower at 160 full-colour single sided cards per hour, 30 cards less than the 600, making it a more affordable machine that is still capable of medium to high volume card issuance.
Packed with the same built-in security features to protect your cards, including the Digital Shredding technology which fragments ID card data deeming it unrecoverable and protecting your machine from a databreach.
The 300 ID card printer, like the 600 also comes with Magicard's Holokote feature which allows you to customize up to 10 personalised holographic designs made up of images, text or a logo allowing you to print visual watermarks on your ID cards and badges.
Magicard offer a three year limited warranty on the 300 which includes the printhead cover for your peace of mind.
If you like the idea of sticking with Magicard for your printing needs but don't want to break the bank, consider picking up the Magicard 300 card printer today.
9. Zebra ZC300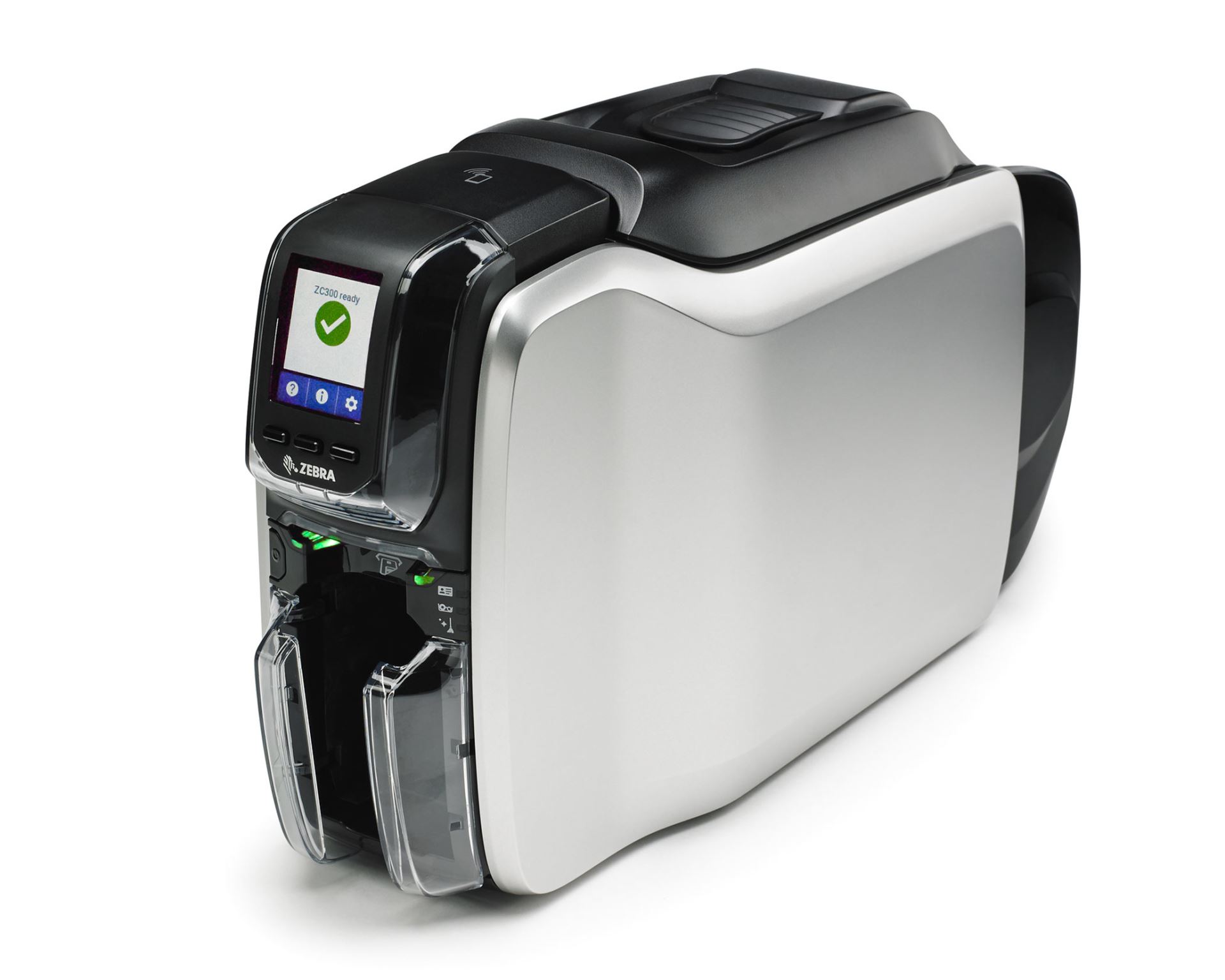 No matter what type of card you need to print – from identity and access to membership, event and credit or debit cards, the ZC300 card printer will help you do it better, faster and easier right out of the box. If you're looking to print high volumes of vivid quality cards on a daily basis, the zc300 is more than capable with an impressive 200 full-colour (YMCKO) single-sided cards or an outstanding 900 monochrome cards per hour.
Zebra's elegant engineering allows for versaitility and ease of use with its ground-breaking slim fit everywhere design, you can get secure card printing anywhere. It is one of the few printers in the market to feature a highly graphical full colour display that makes it easier than ever to print cards with text-based messages in the language of your choosing, allowing any user to easily understand what the printer needs and how to perform any function including clearing a printer jam, fixing a ribbon, loading ribbons and more.
The Zebra ZC300 also comes with a new ingeneious card feeder that can adjust to the thickness of each card inserted. Includes a 100 card input hopper and 100 card capacity output hopper so the printer does the work for you. A two-year warranty on this printer and printhead is available.
10. Matica XID8100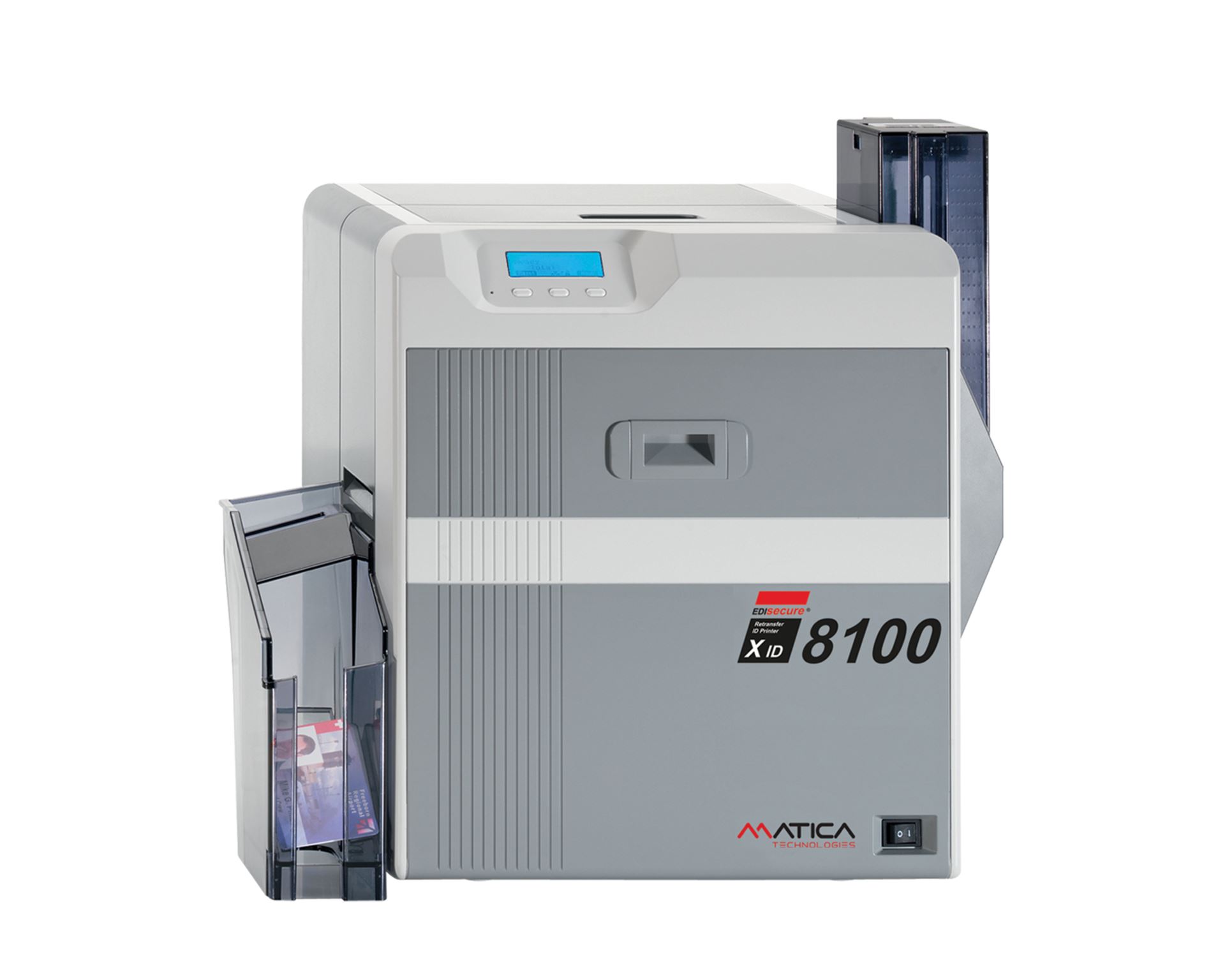 There are times where you want to avoid the cheap printers and go with something that offers performance and the very best ID card quality in one printer. That is why the Matica XID8100 retransfer printer is the perfect solution for the regular day to day demand to personalise all kinds of PVC, ABS hybrid and polycarbonate cards.
The XID8100 is a great choice for over the edge printing that leaves no white borders around the perimeter of the card, producing a higher-quality and more professional looking, longer lasting card.
With a 300 dpi print resolution, the XID8100 is a robust, high performing printer capable of printing upto 102 cards in just one hour. It comes with an impressive 200 card input hopper and 100 output capacity.
As you might expect, the Matica wont be the cheapest in the roundup, but still offers a solid value for the price. Covered by a two-year warranty and a lifetime printhead warranty, the XID8100 is suitable for any business needs.
If you're still uncertain, we encourage our customers to browse through our printers and read our id card printer reviews! We also have a team of friendly experts that are passionate about advising and assisting you with finding the best ID card printer to meet your needs.
Give us a ring today on to get started.