Visitor Software
Questions and Answers...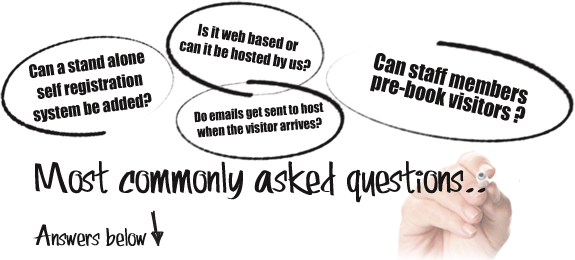 Our visitor software is quick and simple to use and has incredible features such as, pre-booking by staff, full reporting, fire register, signature capture to comply with company health & safety regulations.
Question 1

Can our staff members pre-book vistors?

Answer.

Yes, our visitor control software gives you the ability to pre-book visitors from any internet enabled device i.e. your mobile phone!. Once the pre-booking has been done both the host and visitor receive a notification via email with content such as address details, contact information and your company policy. All information within the email can be customized to your exact requirements.

Question 2

You mentioned both the Host and Visitor recieve a notification via email once pre-booked, can the host receive an email once the visitor signs in from the system?

Answer.

Yes, why not even go further and supply your visitor on the email notification with a unique pin number which when the visitor arrives at the reception they simply give the pin to the receptionist and all the information you entered on the pre-booking filters through and the information for the visitor is there on one screen.. All you simply do is click book in and an automated email from our visitor software is generated and sent to the host for notification of arrival.

Question 3

What means of identification is given to the visitor once they have signed in?

Answer.

Our system automatically produces a full colour paper pass which is printed on out a certain size pass on a standard inkjet printer, the visitor software automatically drags all information from the database I.e. the visitor name, issue date, expiry date and a full colour photograph. The pass can not only be in paper but can also be printed onto re-writable cards to make your running cost even lower.

Question 4

Is there a stand alone self registration module available?

Answer.

Yes, with our software you can either sign in by the receptionist or by the self registration module. Both systems are linked to the one database.

Question 5

Is the software hosted on the web or can it be locally hosted on my network?

Answer.

The software can be hosted on the web or hosted locally on your network, however if the software is hosted via the web you can access the database anywhere anytime.

Enquire

If you would like to hear more about our visitor control software please send your contact details via the button below.