Fargo HDP8500 | The highest security ID Printer on the market
Description

HDP8500
The most reliable, high duty performance ID card printer in the industry.
The FARGO® HDP8500 Industrial Card Printer/Encoder is the superior industrial ID printer for extended-run, high throughput credential personalization and issuance.
It's especially suited for the high duty cycle requirements of large government ID card program.
The HDP8500 is loaded with features that allow you to produce IDs reliably and continuously, even in the most demanding environments.
For High Duty Performance - a 400-card input capacity; graphical touch screen user interface; built-in security features like PIN access and resin ribbon data-erase; and an air filtration system.
With High Definition Printing - HID's fifth generation HDP engine produces prints crisp, over-the-edge images on a wide variety of technology cards and card materials.
Encoding Features:
Magnetic stripe encoder - 1, 2 and 3 track.
Smart card contact station
Combined MIFARE® contactless and contact encoder.
Optional Features:
Lamination Module
Additional Encoding Options
Available Upgrade
The

HDP8500LE Industrial Card Laser Engraver
Ideal for
Government-to-citizen IDs:

Driver Licenses
National IDs
Border crossing cards
Voter registration

Service bureau ID production
University student ID/payment cards
Contact us to find out more

Fargo DTC1000Me
Part No
Ribbon Description
Images
Panels
Click To View Product

84818

Fargo 1 Panel

3000 Images
Premium K

84810

Fargo 3 Panel

750 Images
YMC
84814

Fargo

5 Panel
500 Images
YMCFK
84811

Fargo

4 Panel
500 Image
YMCK

84816

Fargo

4 Half Panel
1000 Image
YMCK
84812

Fargo

5 Panel
500 Image
YMCKK
84813

Fargo

5 Panel
500 Image
YMCKH
84815

Fargo

5 Panel
500 Image
YMCKI
84800
Clear Film
1500 Image
Clear
84803
High Durable Clear Film
1000 Image
Clear
84801
Holographic Film
500 Image
Clear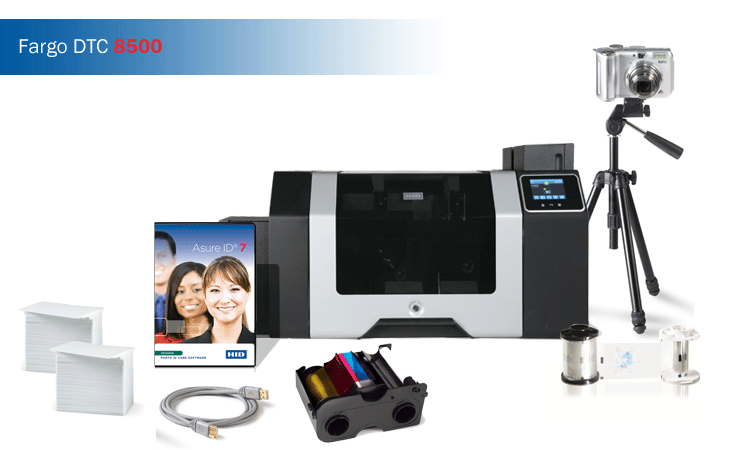 Downloads/Spec
HDP8500 Specifications
Print Method: HDP dye-sublimation / resin thermal transfer
Print Platform: Standard, dual-sided printing
Resolution: 300 dpi (11.8 dots/mm)
Colors: Up to 16.7 million/256 shades per pixel
Print Speed (batch mode): Up to 1200 cards per shift/24 seconds per card (YMC with transfer)
Accepted Card Sizes: CR-80
Dual Input Card Hoppers: (2) 200-card hoppers; Total capacity 400 cards
Output Hopper Card Capacity: (1) 200-card hopper
Field-upgradeable Options:

Laser Engraving
Card Lamination Module - dual-sided (simultaneous)
Magnetic stripe encoding
Smart card encoding (contact/­contactless)
Custom secure holographic HDP Film and overlaminate
Secure proprietary consumables system
Andon production status light
iCLASS® programming platform kit
ISO Card Flattener
High Durable HDP Film for enhanced card durability
Reviews
There are no reviews yet.
Add review