Evolis Primacy R5F008EAA YMCKO Colour Ribbon - 300 Prints
Description
Evolis R5F008EAA Primacy YMCKO Colour Ribbon
The Evolis High Trust original colour ribbons have been designed to produce expert quality prints with Evolis card printing systems.
Product information
Genuine ribbons from Evolis' distributer
Full Colour Ribbon
Manufacturer part number: R5F008EAA
Up to 300 single-sided prints per roll
Up to 150 dual-sided prints per roll
Up to 3 years card lifespan
Colour Identification


Features
Overlay thickness: 1.1 microns.
Compatible with PVC or composite cards.
For dye-sublimation and thermal transfer technologies.
Properties
Yellow Panel [Y], Magenta Panel [M], Cyan Panel [C]
Black Panel [K], Overlay Panel [O]
Printer Compatibility
Compatible with Evolis Primacy Printers
Advantages
YMCKO Colour ribbons are capable of reproducing up to 16 million sharp, vivid colours and clear text.
The protective varnish overlay allows for a better lifespan of your prints for up to three years.
Evolis ribbons are tested and quality assured bringing you printing reliability.
Produce up to 300 single-sided or 150 dual-sided print quality outputs.
300 DPI resolution expert presentation guaranteed for each print.
Specification
The color ribbon is polyethylene terephthalate (PET) with thin layer of specialized coating. The concentration of colorant is very low and they are insoluble in water. In the printing process they only diffuse at temperature above 50°C.

To get the most out of this product, we recommend using the ribbon within one year and storing it in a cool, dry environment absent dust and direct sunlight which can damage the panels from heat exposure.
More information
A YMCKO colour ribbon is designed to print full-colour cards. In addition to the standard colours [Yellow, Magenta, Cyan and Black], the YMCKO ribbon also includes a protective varnish [Overlay] panel that is used to protect the elements on the card post-printing to retain a high quality professional image which can be used for up to 3 years. This process makes it possible to optimize the quality of printed images and logos with a 300 DPI resolution that guarantees expert presentation on single-sided or dual-sided cards.

Choose a YMCKO ribbon if you wish to print on a single or dual-sided card that requires full colour presentation. The YMCKO image below shows a visual representation of the ribbon that is capable of producing vibrant images. The panels are separated by YMC (Yellow, Magenta, Cyan), shown below.

It includes the monochrome black resin panel denoted by the letter (K) and is used for printing sharp and accurate text or barcodes and it includes a final panel called the Overlay for the ribbon which is denoted by the letter (O). This transparent overlay is a protective varnish that is applied onto the ID cards which helps retain a high quality image.
Evolis Region Code Management
In the Evolis logistic organization, Zenius and Primacy printers have a unique code assigned to them which specifies in which regions in the world the associated ribbons can be used. Evolis have divided Earth into three major zones (AMERICAS, APAC and EMEA) which corresponds to its distribution system.

The region code "EAA" which is derived from the last three letters of the product code R5F008EAA can be found in the table below.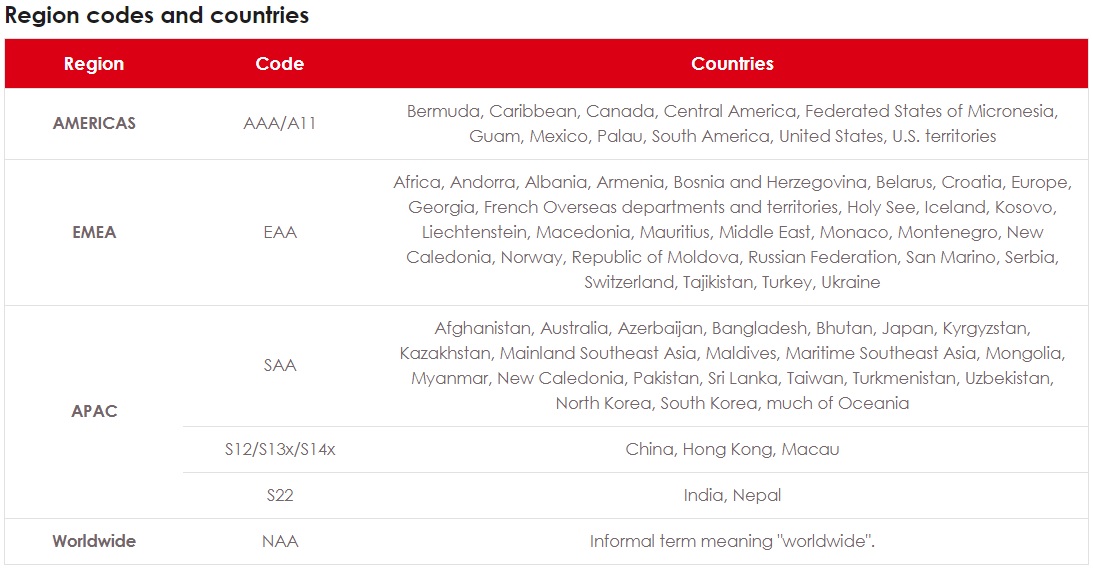 Finding Your Printer Region Code
There are two methods you can use to find the correct region code that is associated with your printer in order to help you choose the correct ribbon.

The region code for your Primacy or Zenius printers can be found on the ID printer label indicated on the the external packaging box that comes with the printer, as well as the label attached to the cassette, as shown below.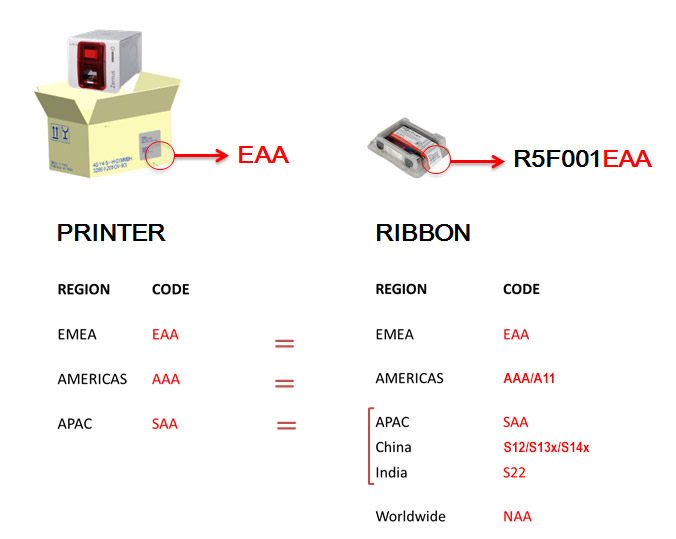 It is important to note that the Evolis ribbons that end with a "NAA" code can be used on all printer region codes.

---
Use genuine printer ribbons

We believe that all id printers perform at their best with genuine id printer ribbons, they are tested and approved by the manufacturer to ensure they offer the best quality and an extended lifespan of your id printer.
Reviews
---
24th March 2015, 16:31:36
John Kipple
Item arrived next day! genuine ribbon too.
---
Add review